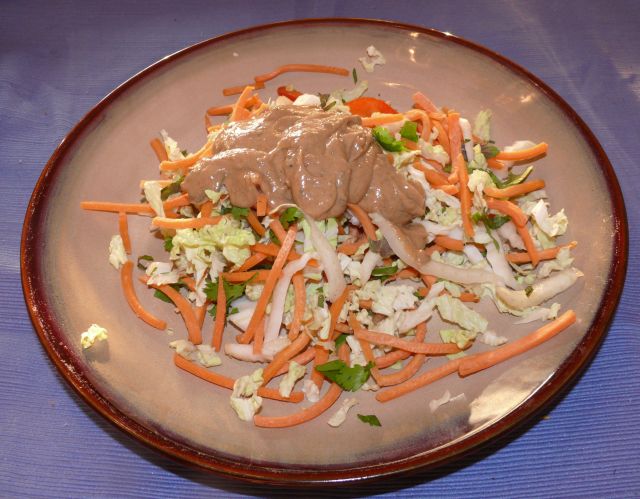 This is just squeaking in under the wire. I was on Wheat Free, Meat Free's site, and saw her entry for Food Blogga's "Beautiful Bones" Osteoporosis Food event, featuring calcium rich recipes. Since finding out in my twenties that I have osteopenia, this has become much more important to me personally, and it meant a lot to me to participate. Osteoporosis and osteopenia are incredibly common among Celiacs especially, and it's very important to get a DEXA scan. Nag your doctor if you need to, it's better to know because then you can support your health!
So…I had a big container of shredded veggies leftover from spring rolls that I needed to use up, and I decided on brazil nut butter because it's high in calcium. It's a simple curry sauce that takes just a few minutes to whip up. If, like me, you have to avoid soy, sesame and vinegar, most commercially prepared dipping sauces are off limits, so this is a quick and easy substitute. If you wanted, you could add a splash of rice vinegar or soy sauce, or sprinkle with sesame seeds.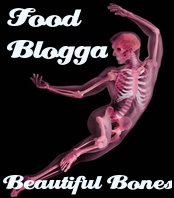 Pretty much anything would work for the veggie mix. I would definitely recommend adding the mint, cilantro and basil because it gives a nice dimension to the dish. The sauce also works well over steamed broccoli.
I have directions for making brazil nut butter here, although almond butter or peanut butter will work just as well.
Brazil nut sauce:
3 Tablespoon ground fennel seeds
1 Tablespoon ground coriander seeds
1 Tablespoon ground cardamom
1 teaspoon cinnamon
1/2-1 teaspoon cayenne, to taste
1/2 cup brazil nut butter
pinch of salt
2 Tablespoon oil
1 cup water
2 apricots, blended, or 1 small jar of pureed apricots
Veg mix
1.5 cups shredded carrots
about 1/4 napa cabbage, sliced very thinly
1/2 yellow, red or orange pepper, sliced thinly
1/2 cup bean sprouts
1/4 cup mint leaves
1/4 cup cilantro or basil
Toast ground spices in a dry pan over medium heat until aromatic, 2-3 minutes. Add oil and make a paste. Add nut butter and mix well to combine. Add warm water and apricot, heat and stir until everything is well combined. Simmer a little for a thicker sauce. Serve over a bed of shredded veggies and enjoy!
~from Cheryl's kitchen ©2008. Please do not replicate without crediting/permission.