I just peeked at the ingredient of the week–cabbage! Not only am I currently munching on a meal including napa cabbage, so I'll have to include that. And I just happen to have bought a cabbage this morning. Quite lucky, I think! I have a very busy 2 weeks ahead of me, there are a lot of wonderful things that I'm juggling.
If anyone is interested, I have the June issue of my GF newsletter here "Gluten free on the go" on staying GF through summertime fun.
Sunday:
Vegan
Veggie Medley (starring napa cabbage) with Brazil nut butter sauce
This was an entry into the Beautiful Bones event, hosted by Food Blogga. Osteoporosis and osteopenia is very common among Celiacs, so calcium is especially important for gluten free folk! There are a wide range of recipes here for your drooling pleasure
 
Monday:
East Indian
Beef keema with roasted cauliflower and garlic
Tuesday:
Simple and easy
Turkey cutlets in tomato sauce
Wednesday:
Roasted salmon and roast asparagus
Thursday:
Crock pot love
Crock pot chicken–chicken, cabbage, herbs, spring onions, celery, carrots, and who knows what else
Friday:
Garam Masala spiced roast chicken and steamed broccoli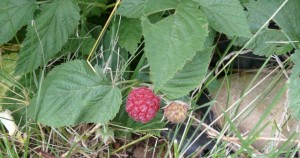 Weekly harvest
From my garden:
First raspberry of the season!
Spring onions
Thyme
Rosemary
Marjoram
Oregano
Farmer's Market:
Asparagus
Greenhouse tomatoes
Onions
Rhubarb (I hope!)
Baked good:
depends on time. I've baked a lot the past few weeks, and have evidence to prove it! Here's my Hazelnut opera cake.