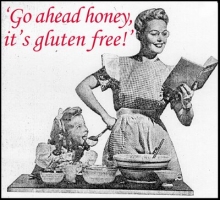 The summer months are a great time for uncooked meals. Fresh tomatoes and an avocado. Peaches and cashews. Tuna, green apple and arugala with some balsamic. Quick, easy and perfect!  I've always been a fan of the simple stuff, but never delved much into more involved meals and desserts.  This has given me a bunch new great ideas!
Here's a roundup of what all of you DIDN'T bake: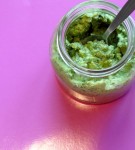 Naomi at Straight into Bed, Cakefree and Dried is the the founder of GAHIGF.  She's treated us with a lovely gluten free, dairy free, basil pesto recipe.  I can't wait until my basil gets big enough!  Naomi has a great bunch of SCD recipes, and just gorgeous pictures.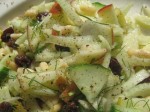 Hannah, from Hannah's Harvest, is joining us for the first time.  She has a beautiful Candy Apple Fennel Salad, which is great sweet treat, and a good way to use up fennel!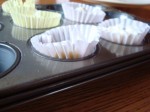 Lauren, the Celiac Teen, waltzed in with some no-bake cheesecakes. She's celebrating 6 months gluten free, so let's all raise a glass of…err…non alcoholic beverage… in her direction!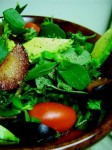 Cindalou, of Cindalou's Kitchen Blues, is taking a minute off from her cloud of newly married bliss to share her Purslane, Plum and Avocado Salad. I grow purslane, and am always looking for new ways to use it, so I'm jazzed!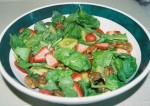 Rachel, the Gluten Free Mama has graced us with a gorgeous, seasonal Kiwi Strawberry Salad with Citrus dressing. It was her way to make great use of an abundance of lettuce and spinach in her garden.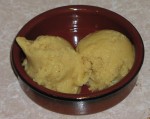 After a few raw desserts that didn't quite work as planned, I pulled together a yummy, tangy, peach ginger ice cream.  This was the first ice cream I'd had in years, and so I was delighted.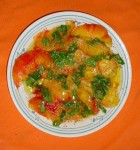 Last but not least, Rachael of the Crispy Cook limboed under the deadline with her Striped German Tomato Salad.  Not only is the tomato from her garden, but it's the first of the season, which makes it even more exciting!
She doesn't have a purty picture, but M-elle of Cooking and Uncooking has a Mango Avocado salad posted.  Since mangos and avocados are my favorite foods, it sounds just about perfect to me!
We must all be on the same wavelength, because Karina, the Gluten Free Goddess, posted recipes for greenwiches (uncooked lettuce wraps).  Yum!
So I think we hit everything, from appetizers, to salad, to main course, to dessert.
If you had fun with this, please be sure to check out this month's Adopt a GF Blogger, which is runs from July 28 – Aug 11.
And, of course, be on the look out for the next month's edition of Go ahead, honey, it's GF.  This just in!  Rachel, from the Crispy Cook will be hosting, and her theme is seasonal veggies.  Also, you can check out the main page at Naomi's blog!