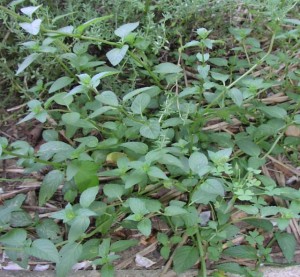 Gluten Free Mommy is the generous hostess and, of course, the originator, of this weeks' Menu Plan Monday. It's a mint flavored week!  Not only do I have "normal" mint in the line up,  but I can't see going through a week without other kinds of mint, like thyme, rosemary, oregano, etc.
Also, if you haven't already, please consider joining the fun and participating in this months' Adopt a GF Blogger, which is now through Aug 11th.
Monday:
Grillin' Rosemary Salmon with grilled marinated peppers
Tuesday:
Quick and easy:
Baked turkey cutlets in a tomato basil sauce with roasted asparagus
Weds:
More grillin'
Grilled mint-stevia chicken with roasted corn (for DH) and broccoli for me (I will post this recipe if anyone is interested)
Thursday:
Vegan:
Southwestern Quinoa and black bean salad, featuring my very own tomatoes
Friday:
Leftovers =)
Saturday:
East Indian
Beef and coconut curry with Spicy Cauliflower soup (my adoption of Diet, Dessert and Dogs) and maybe even papadams, if I get some energy!
Garden harvest: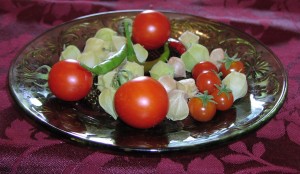 From my garden:
Ground cherries
green peppers
garlic
Chocolate mint!
tomatoes
basil
rosemary
stevia
From the Farmer's Market:
Peaches
Apricots
Cabbage
Summer onions (very yummy)
Red peppers
Dessertof the week:
some variant on chocolate cherry pudding, and possibly something else. I have been a baking fool lately, but most of my endeavors have fallen a little flat (no pun intended)