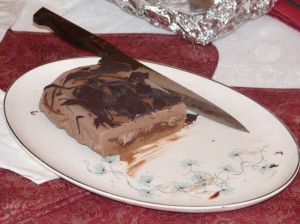 This month's challenge is brought to us by the adventurous Hilda from Saffron and Blueberry and Marion from Il en Faut Peu Pour Etre Heureux.  They have chosen a French Yule Log by Flore from Florilege Gourmand.
I love being a Daring Baker…usually. But when I saw all 19 pages of this month's recipe, I was a wee bit intimidated! Currently, I'm gluten, dairy, egg, corn, and soy free, and more recently, I've had to avoid sugar and grains, too. Given my limitations, sometimes I just make something for DH or friends, but I was doing so much cooking for other people I wanted something for ME.
Once I started thinking about it, it did seem (sort of) doable. The required elements are: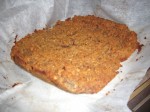 1) Dacquoise Biscuit
2) Mousse
3) Ganache Insert
4) Praline (Crisp) Insert
5) Creme Brulee Insert
6) Icing
I just couldn't wrap my brain around the creme brulee without dairy, eggs, soy or sugar, so I confess, I left it out. I know it was required…but with all of my limitations, 5 out of 6 ain't bad. Everything else was there, at least in spirit.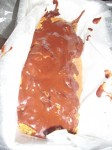 I must say, I had pretty low expectations. I'd been fighting a bug most of December, and it got pushed off till the last minute. And yet, everything turned out beautifully, and I would definitely do it again, or parts of it.  It ended up tasting a lot like ice cream cake, and it traveled down beautifully in a cooler.  All I would have done differently is leaving layers to freeze longer so that the layers had a lot more differentiation.  I would have made more chocolate icing, too!  I brought it along with me to NC, and way underestimated the amount of chocolate I'd need.  Since the stores were closed, I just drizzled the icing on rather than making a cohesive coating.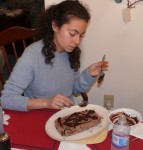 Since I had so little time and no clue of what I was doing, I don't have recipes.  I did write down the dacquoise recipe (picture above) but (by itself) it wasn't very good.  The mousse is a mix of young coconut, hazelnut, cocoa powder, agave, cinnamon, pineapple and chia whipped in my Vitamix.  I almost chickened out on the crisp insert, then reminded myself that I am a DARING baker and made a hazelnut meal/agave/chia/mesquite crispy cracker-ich layer.  The ganache (picture above on right) was baker's chocolate with thick hazelnut cream and vegetable glycerine, and the icing was baker's chocolate, glycerine and almond oil.
So it just goes to show how nice it is to go out on a limb, be daring and try something new!  I'm so glad that most of the DB challenges have been do-able, especially considering the number of restrictions I have.   I would like to play with the veganized agar frosting version in the future, and plan to make this into a faux ice cream cake next time.  Thanks so much to our brave leaders, and bring on the next one, baby!