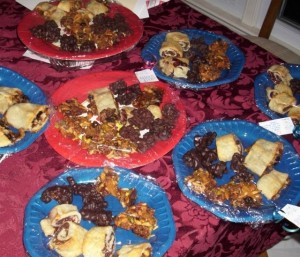 As you can see, things have been busy at Chez Harris. I always end up baking more than I mean to, and this year is no exception. I'm glad that I've avoided huge excess, though! This week was a Chocolate Orange Cake, rugelach (yummy but totally oozed), chocolate covered pom, chocolate covered dried fruit, chocolate covered clementines (perhaps you are detecting a pattern…) and fruit and nut bars. We ate food, too, including a Summertime Salad, and since I'm fighting a cold I think I had soup every day!
This week we'll be traveling, and I'm glad for the opportunity to figure out what we'll be eating so I'm not scrambling last minute. Our food of the week are cranberries, and our host is the fabulous Angela of Angela's Kitchen.
Monday:
Roast turkey breast with roasted peppers
Tuesday:
Garlicky quinoa with broccoli
Weds:
Salmon or curry lentil soup (Amy's) with veg TBD
Roasted cauliflower–it's a great car food, no idea why.
Thursday:
Monday's turkey breast which will be frozen and trucked along with us, along with celery in a chestnut sauce and hopefully cranberry relish, too.
Friday:
Avocado and Tomato and Sorrel soup (from my freezer)
Baked goods:
the DB challenge. Regretfully, it didn't happen last week
Chocolate chestnut cake
This week's goal is not to get any speeding tickets. I pointed out to my DH yesterday that every time we go to NC, we get a ticket. He was kind enough to mention that last time, no tickets, but we got rear ended. I think perhaps that no driving drama is a better goal. I hope everyone has a great