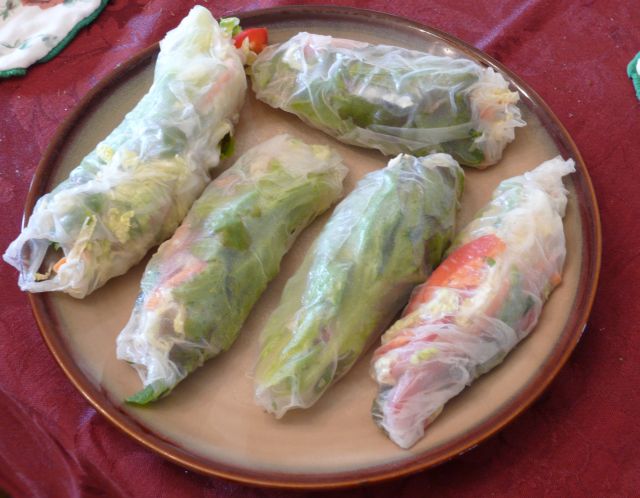 Some people call them spring rolls, some people call them summer rolls. Either way, they're yummy and surprisingly easy to make, once you get the hang of them.
They're totally customizable, depending on what you like and what's around in the fridge. You can put the sauce in the roll, or do the dipping thing.
I've gone for a veg/vegan roll because a) I like sneaking more veggies into unsuspecting husband and b) I'd rather avoid the fuss of precooking non-veggie stuff. But you can always add in cooked shrimp, chicken, rice noodles or whatever strikes your fancy.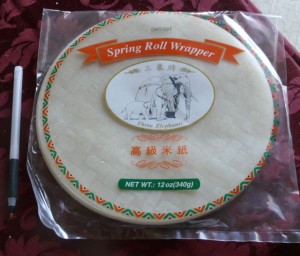 Go for the 8 or 9 inch rice paper rounds. I've seen them at Whole Foods and Asian markets. I've never seen one with gluten, but check the label just in case. The 5 inch are way too small, and you could wrap a small dog in the big ones. Massive overkill, I think.
You can premix your "filler" veggies, which is easier, unless you have a picky person who doesn't like one of the ingredients. In our house, that's DH who doesn't like cilantro. I know, hard to believe, but somehow, I love him anyhow.
These are great party foods and can be made ahead of time. Just wrap these babies up in wax paper and put them in a sealed baggie with a moist paper towel.
Ingredients:
12 lettuce leaves
2 cups shredded carrots
about 1/3 napa cabbage, sliced very thinly
1/2 yellow, red or orange pepper, sliced thinly
1 cup bean sprouts
1/3 cup mint leaves
1/3 cup cilantro or basil
15 rice paper wraps (a few extra in case of mistakes)
So here's the general idea:
Have a large dish of warm water and all of your veggies arranged. Put the rice paper in warm water. Grab a piece of lettuce. Fish out your rice paper and arrange it on the plate. Put down the lettuce leaf and a small handful of the "filler" veggies. Roll up! If the paper rips, you can double wrap.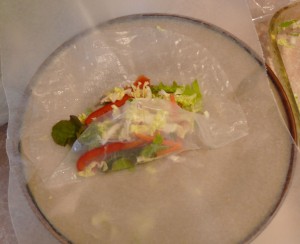 It takes a few tries to get the hang of it, and often less is more. Don't overstuff! For a crash course, you can always come to my GF and healthy class in Alexandria, VA.
Serve with Thai dipping sauce or peanut sauce. I'll post a soy free almond sauce recipe I use when I figure out what I put in it. It's based on a modified recipe from the Spice and Herb Bible, one of my favorite reference books.
Book of Yum has a peanut agave sauce that looks intriguing, too.
These are my finger food entry for April's "Go ahead, honey, it's gluten free!" as hosted by Glutenagogo
from Cheryl's kitchen ©2008