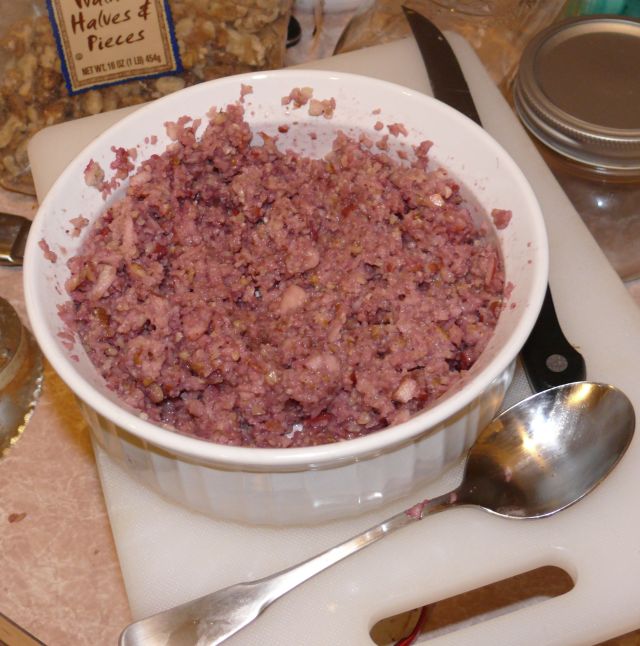 At a glance, charoset is a brown, unappealing looking dish served at Passover to commemorate the bricks and mortar of slaves. But looks are deceiving, it's actually a super yummy apple/cinnamon/walnut/wine sweet combo that disappears within minutes at every Seder I've been at.
For starters, wine is out for me, as is grape juice, as I can't do grapes or anything fermented. So I got a little creative, and used pomegranate instead. I think apricots would be a wonderful addition, but didn't have any on hand. Next time!
2 mildly tart apples, cored (I like Macintosh)
1/2 cups walnuts
1/2 teaspoons cinnamon or more, to taste
3 Tablespoons succant or sugar (or 3 T agave nectar, if you're not strictly following Kosher for Passover guidelines)
a pinch cardamom
a pinch stevia (or you can add sugar to taste)
3/4 cup pomegranate juice
Simmer the pomegranate juice over low heat until reduced to about 1/4 cup. Do keep an eye on it, as it seems to disappear to nothing at the end!
Chop apples coarsely and add to the food processor. Pulse a few times. Add all ingredients except reduced pom juice and pulse until you have small chunks of everything. Add the thickened juice and stir. Add sugar and or spices to taste.
It doesn't taste the same, but it IS delicious in its own right. It's even better after sitting overnight.
The first night Seder, I had
Turkey vegetable soup
Roasted cauliflower with garlic
Roast turkey
Mock Matzo from GF Bay. It was quite tasty, but I needed much less water.
Charoset (see above)
and chocolate chips for dessert.
I will have the Tropical bananas for dessert next time.