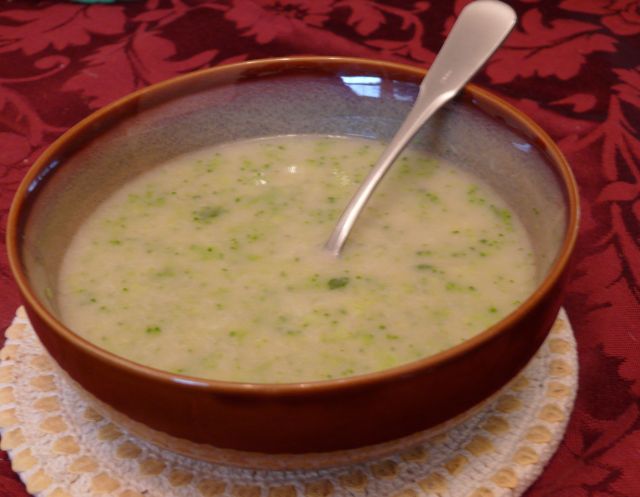 Someone mentioned going on a nightshade free diet (i.e. avoiding potatoes, tomatoes, peppers, etc.) and I got to thinking about my favorite potato-like veggie: celery root, or celeriac.
This bizarre looking vegetable has a mild, celery like flavor and is delicious roasted with a little oil and thyme. As with many things, its beauty lies within… Just cut off all of the dirty/hairy looking stuff, then cut into 1 inch cubes, toss with fresh or dried thyme and a little sea salt and oil at 375 for 25-30 minutes.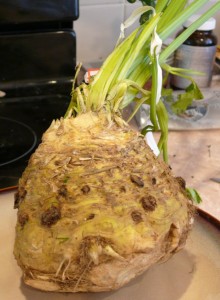 Personally, I think celeriac is much tastier than potato and has a much more complex flavor. It's certainly much healthier and lower glycemic. It works well in many soup recipes as a faux-tato, but is a winner on its own, too. Whenever I roast it, I freeze a cup or two for use in last minute soups, like this one.
2 cups GF chicken or veggie broth (I like Pacific brand)
1/2 cup thyme roasted celeriac
1/2 cup steamed broccoli (fresh or frozen)
a pinch of dried thyme, or a sprig of fresh thyme
Heat broth and celeriac on the stovetop or in the microwave. Blend 2 cups broth and celeriac on high until creamy (4-5 min unless you have a vitamix). Add a pinch of dried thyme, to taste. Add in broccoli and pulse, leaving chunks if desired.
Serves 4 as a starter.
As an added bonus, I submitted this to Susan from the Well Seasoned Cook as part of my first foray into the Weekend Herb Blogger (WHB) event. They have lovely recipe roundups with all sorts of creative veggie and herb recipes.
from Cheryl's kitchen ©2008