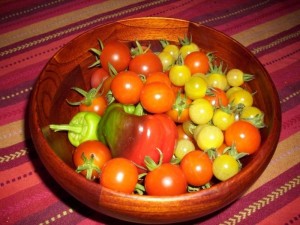 My garden is putting forth all of these beautiful tomatoes, and I'm excited to use them up!  I've been battling the cardinals and goldfinches, and it's an uphill battle, I tell ya!
Last week was a tasty one, with a special 5th anniversary meal for DH and I. I'll post pictures soon, but it involved a Malasian Curry, dairy and sugar free Thai iced tea and a creme brulee that was totally off limits to me.
I'm doing a mini roundup as I goofed in the week assignments.   I'm sorry some of the hosting has been last minute, and if you're interested in hosting, please drop me a line…
Monday:
Salsa-mole and chickpea crackers
Tuesday:< br />
Burgers and grilled peppers
Weds:
Garam masala turkey with roasted cauliflower
Thursday
Lemony Mint Quinoa and garden fresh tomatoes
Friday:
Leftovers!
To bake:
bread
the Daring baker challenge
crackers
From my garden:
Tomatoes
cucumbers
herbs: basil, thyme, oregano
parsley
garlic
peppers (not many, though)
blueberries
From the market:
raspberries
kale
more peppers
cilantro
onions
Esther of Lilac Kitchen has a great menu planned–even millionare shortbread. She got a bunch of good finds at a charity shop and looks like it'll be fun baking in the near future!
Could the rest of us just be busy? If you've done a menu plan, drop me a line!