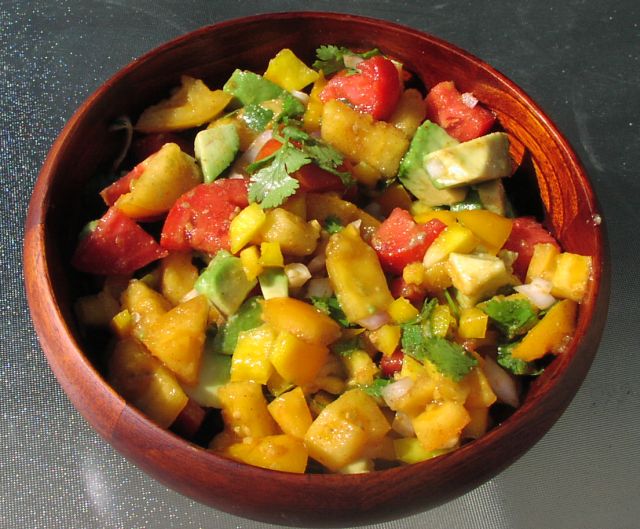 I was fully prepared to make guacamole, but there were all of these tomatoes and I was craving salsa, too. Problem solved: salsa-mole.
This made a great, quick, vegan lunch that I enjoyed most thoroughly! If you're a big fan of cilantro, like I am, you may want to increase it. You can enjoy this on tortilla chips, crackers or just with a spoon. Yum!
Cilantro, or coriander, is a member of the same family as carrots, celery and parsley, and yet the neighborhood rabbits leave it alone. Come to think, they're not too clever, they rarely munch on my garden. Usually they have grass instead. Hey, I'm not complaining but grass instead of veggies? You must be kidding! Now that the weather is getting cooler, I've planted some again and I'm keeping my fingers crossed.
Many culinary traditions make good use of cilantro, such as in Mexican, Indian and many others. However, there are some misguided people out there that can't abide the taste or smell. Regretfully, DH is one.
1 avocado, diced
3 medium sized tomatoes, diced
1/2 sweet pepper (red, yellow or orange) diced
small shallot, finely minced, or a Tablespoon diced sweet onion
small handful of chopped cilantro
1 teaspoon cumin
1/4 teaspoon cayenne
salt and freshly ground white pepper to taste
good squeeze of lime
Add everything together, mix and enjoy!
For a winter-friendly version, use a can of drained diced tomatoes instead of the fresh tomatoes. I love Eden foods.