101 Cookbooks meets 101 allergies…not quite, but sometimes it feels like it!
I love Heidi's blog, 101 Cookbooks. One of the things I like best is Heidi's inventive use of non-gluten grains and flours, like teff, millet, amaranth, and my favorite, mesquite. It's cooking and baking for people who love good, real, unprocessed foods. Rather than specialty gluten free foods, her site often features great foods that just happen to be gluten free. The pictures are gorgeous, and each is a work of art in itself. Not only that, she has a real, fresh, approachable way about her writing which makes it feel more like an intimate conversation. And the occasional post on social consciousness? It makes me miss my Berkeley days.
Her cookbook, Super Natural Cooking, is among one of the most food stained in my kitchen, which for me is a sort of cookbook rating system.  😎 Some recipes are gluten free, some aren't, but most are pretty adaptable to GF. It's worth getting just for the discussion of flours and grains!
I've made quite a few from the website and the book, with my favorite being a gluten/dairy/egg/soy free Chocolate Coconut pudding. There is a list of GF recipes on the site, but don't limit yourself! There are quite a few GF recipes that aren't tagged as GF.
I "adopted" Heidi, because she's one of only a handful of mainstream bloggers who aren't gluten intolerant that choose to make a point to cater to GF folks and have a GF tag.  So thank you, Heidi, both for the GF recipes and great ideas.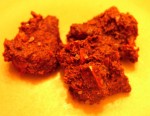 For my adoption, I made the Choco coco clusters. They were amazing! I was first introduced to the concept of salt and chocolate by Sally. I tried it, and thought it was interesting, but I wasn't sure if I actually liked it. But this adoption was my excuse for getting a smoked salt, and the pairing of smoked salt and the deep rich chocolate was just incredible. I did half a batch with almonds, as per the recipe, and use toasted brazil nuts for the other half. Next time I'd maybe add in some orange peel? Both ways were really amazing.
And for the inspiration…
when I read Heidi's recipe for Banana Chip Cookies, I couldn't get them out of my head. Banana chips in cookies?   Yes, most of the ingredients were off limits for me, like the wheat flour, eggs, sugar, butter, etc. but I was determined to pull together a gluten free, whole grain, vegan, dairy/egg/corn/soy free version with little sugar.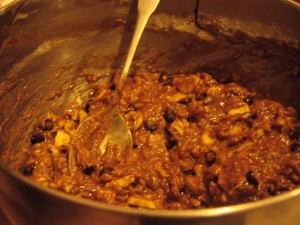 I'm delighted to say, mission accomplished! It took a few tries, but hey, the experimentation process was delicious.  And these were absolutely incredible. I used macadamia nuts, which gave a total buttery richness, and sweetened them with agave. People who ate them wanted more, and this was by far the best chocolate chip cookie I had since going GF (and everything else free). The only downside is that an egg free dough means you've got no good reason not to just eat it raw…
I didn't use a binder because I didn't think it was necessary. Personally, I find xantham a off putting (ya know, something about casings of bacteria and all). They stay together just fine as long as you chill them and keep them small.  But if you want bigger cookies or don't want to chill them, just add in your favorite binder, like xantham or guar or a little chia seed.
Though I had to change a bunch of elements, the spirit of Heidi's remains in the whole grains and banana chips.  I never would have thought to put them in a cookie on my own!
Also–I use a spoon-in method rather than sweep and dip, meaning you spoon the flour in one spoon at a time. I don't know what effect, if any, doing it the other way would have on a final product.
Banana Mac-Chip cookies
3/4 cup sorghum flour
1/2 cup ivory teff flour
1/4 cup arrowroot starch
1/4 cup sweet rice flour
1/4 cup flaxseed meal
1 tablespoon mesquite (or 1 more tablespoon teff)
1/4 teaspoon sea salt
scant 1/2 cup unsweetened coconut flakes
1 rounded teaspoon baking soda
1 teaspoon baking powder
1/3 cup coconut oil
3 Tablespoons macadamia butter or cashew mac butter
1/2 cup agave
2 Tablespoons of molasses
2 Tablespoons vanilla
1/3 cup sparkling (bubbly) water
1 cup (measured pre-chopped)  macadamia nuts, lightly toasted and salted
2/3 cup banana chips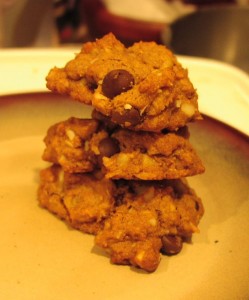 2/3 cup chocolate chips (dairy and soy free)
Chop macadamia nuts and banana chips.  I finely chopped about 1/3 of them, and left the rest coarsely chopped.  Chop banana chips.
Mix dry ingredients together thoroughly. Cream the coconut oil, nut butter and sweeteners, then add vanilla. Mix wet and dry, add in the bubbly water and add ins. Chill for 30 minutes.
Put walnut sized mounds on a silpat or parchment about 2 inches apart.   Bake at 350 for 8-9 minutes or until they start turning a yummy golden brown.
LET COOKIES COOL COMPLETELY before moving them, or they will definitely crumble.  Ideally, you'd wait 15 minutes before moving/eating, but the broken ones don't count, right?
The adoption/adaption of Heidi's recipes and 101 Cookbooks is part of "Adopt a GF Blogger", as hosted by Book of Yum.  Many thanks to Sea for starting and hosting this event.