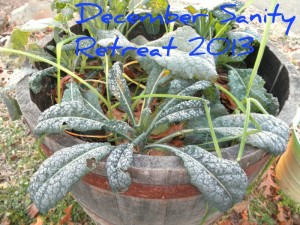 First, thank you so much to everyone who participated in the December Sanity Retreat, from my delicious co-hosts:
to everyone who read, commented, shared, or joined us in the Facebook group.
And so…(drumroll please)
the winner of the Nuts.com gift certificate is Ms. Pamela of aseafish out of water. Yay Pamela!
The winner of the fun stuff from me is Carrie of Ginger Lemon Girl and I can't tell you what the present is because then she'd read it and spoil the surprise. 😉
I decided to blog my the things I was grateful for daily during December. It was interesting. I didn't anticipate how hard it would be, between losing power for a few days, an autoimmune flare, dental issues, and kinda bizarre GI problems that made me  go on a low fat diet. Hopefully I'll never had to do that again! So there were more than a few days that I didn't feel very grateful.Of course, true to my nature, I posted on those, too.
I'm glad that I was doing the gratitude posting. It was a stretch for me. I'm a very private person, and I found it challenging to post on ME for so many days. I don't think I'll ever do daily posts again, but I'm grateful for it nonetheless for showing me ways I'm not yet comfortable showing up in the world.
So I've decided to do Thankful Thursdays for 2014. I'm giving myself permission in advance to miss a few, because I'm sure I will.
And here's a roundup of our December fun:
My 31 days of gratitude:
If you focused on having a sane December in 2013, how did it affect your holidays?