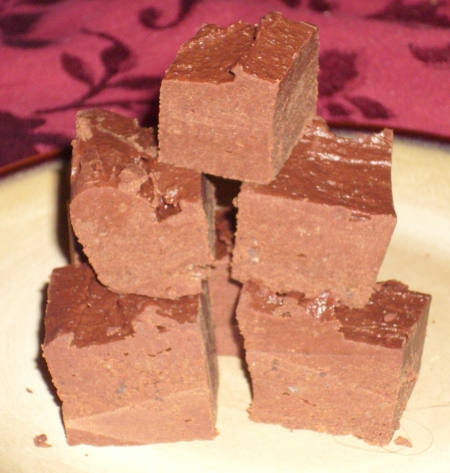 Note: Somehow I managed to 'un-publish' this recipe and I just realized it, so I'm sharing this again because it's too good to miss!  Bon appetit!
This fudge, or a version of it, was my saving grace.  When I went gluten free, I also went dairy, soy, egg and corn free and limited sugar and couldn't have most grains.  I used to pride myself in my baking skills, and was totally discouraged with the variety of "incredible inedibles" I was making at the time.
My first success was chocolate chestnut fudge, and I've been making it every year since.  Rich, chocolatey, decadent, moist, satisfying and delicious.    When I had the first piece of fudge, I knew I would find some way to make the diet thing would work, I would learn the ropes, and somehow it would all get better.  And boy, it has!
Did I mention that it's vegan and sugar free?  yep, this is some fudge, and it's totally easy to make.  The only hard part is letting it chill overnight.
I've submitted the recipe to Slightly Indulgent Tuesdays over at Simply Gluten and Sugar Free.  Check out the roundup!
8 oz chestnuts-jarred or pouches work perfectly
2 heaping Tablespoons macadamia butter
2/3 cup agave
1 Tablespoon vanilla
a pinch of salt
4 dropperfuls of liquid stevia concentrate
4 oz melted unsweetened 100% chocolate–preferably Scharffen berger
1/2 cup chopped  walnuts, hazelnuts, pecans, etc. OR cacao nibs. (optional)
mint extract or orange zest (optional for variations)
Melt chocolate in a heat safe bowl.  The lazy/easy method is to nuke in a glass bowl for for 1 min 30 seconds.
Put chestnuts in food processor and process until it's smooth, occasionally scraping down.  Add ingredients through stevia and blend well.  Add in melted chocolate and pulse again.  Stir in nuts and or orange or mint if desired.
Scrape into a 9X5 bread pan lined with wax paper, or double recipe and use an 8X8 square pan.  Flatten out the top.  Cover and refrigerate overnight, or you will have tasty goo.  Cut into pieces and enjoy.  Best slightly chilled.