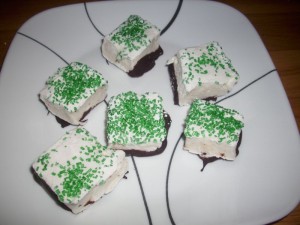 Irony: noun \ˈī-rə-nē also ˈī(-ə)r-nē\ : Posting on My 3 Nutrition Guidelines and the value of limiting processed sugar and then following it with a post on homemade marshmallows
I love making candy.  I don't know why.  I don't really eat candy (well, at least not regular sugar based candy, although I do indulge in some of the healthier kinds, like my Bittersweet chocolate fudge or chocolate covered Pom seeds), but I confess, making the "real stuff" is a blast!  I indulge my inner-candy maker a few times a year.  I made Candy Cane Marshmallows for Christmas and DH got very pouty because I brought them to work after he'd had only a few.  So I promised another batch, and it's taken me until now to honor it!
The recipe I used is a modified form of this from Martha Stewart, heavily weighing on the
substitutions from the comment sections and making good use of some vanilla bean, with  almond a coconut varieties, and dipping the feet in bittersweet, semisweet and milk chocolate.  I know, I know, excessive-much.
It's certainly fun to do if you're still hankering for a St. Patty's day adventure…