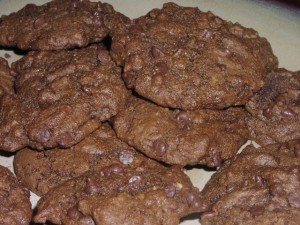 I don't usually have New Year's resolutions, but one of mine this year was start a series, "The best of the best!"  There are so many great gluten-free bloggers out there, and so many delicious recipes to choose from.  I often wondered what to try first from each site, and the author's favorites.  Although if anyone is much like me, favorites change by the week.
So I asked some of my favorite bloggers about their favorite recipes of their own, their favorites 'round the web, AND what they like most about blogging.
My first featured blogger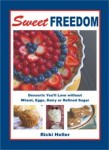 is one of my absolute favorites, Ricki Heller of Diet, Dessert and Dogs. I've been a big fan of Ricki's for a few years now, and once I saw the cute puppy eyes (Elsie and Chaser's, not Ricki's!) I was hooked.  And it's hard to say my favorite part, Ricki's recipes, her stories, pictures or her doggies.  Does that make her a four-ouple threat?
I've made so many of Ricki's recipes, and love her cookbook, Sweet Freedom.  If I had to pick a favorite, I'd probably say the Carob Coconut Sweeties (pictured below) top my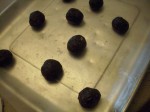 list and the Chocolate Mint Cookies (pictured above) from "Sweet Freedom" top DH's list.
When I asked Ricki, she said "I'm going to (mostly) defer to the readers of my blog for this one and choose from among the most popular recipes.  First I'd say to try the Baked Blueberry Oatmeal Breakfast Pudding . It's easy, versatile and delicious, and not really like oatmeal at all. 😉  I'd also recommend Vegan Pasta Carbonara for a quick and easy dinner.  Finally, one of my personal favorite recipes is Butterscotch Blondies with Dried Cherries and Chocolate Chips (which can be made with all purpose GF flour instead of the flour in the original recipe)."
Mmmmm…now I'm craving blondies!
What about her favorites? My faves would be your fudge (of course!), Sprouted Quinoa Millet Waffles from Affairs of Living ; and Averie's Raw Cookie Dough, which I've made into truffles, the topping for a brownie, and too many snacks to mention.
Raw cookie dough?  *swoon!*
And it's clear how much Ricki enjoys blogging from how entertaining her posts are and the connections she's had with blogging buddies for years (and I am honored to be included in that group!)
As she put it, her favorite part of blogging is: the interactions with readers and other bloggers.  I couldn't have imagined the wide, wide world of like-minded people out there until I began a blog. I love meeting new people online, exchanging ideas and recipes and getting excited about food; and the amount of support and information that's out there always blows me away.  Blog readers really are the best.
I appreciate Ricki's thoughts, of course, and now I've got even more recipes to try!