It delights me to continue "Best of the Best" with one of my very favorite bloggers–Shirley, of Gluten-free Easily (AKA GFE)  The first thing you notice about Shirley is her heart!  She radiates warmth and she's one of the sweetest bloggers I've ever "met", and that's saying a lot.  She is such a huge support to people fortunate enough to live in King George, VA, and takes a lot of newly diagnosed Celiac/gluten intolerant people under her GFE wing.
And did you know she and Mr. GFE actually have bees?  I think that's so neat, and absolutely fantastic.  Can you tell I grew up near the city?
So three cheers for Shirley!
Her website is a fantastic cornucopia of info and happenings around the web, and she has a bunch of great posts.  I asked her about her favorites, and she said:
"From my blog. I admit I feel a bit guilty that these are all treat recipes and they're more mainstream ones (e.g., they use granulated sugar), but treat recipes often are the ones folks struggle with most and once "in the door" will seek out healthier treat recipes, plus entrees, side dishes, and salads."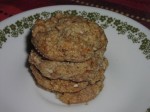 Flourless Peanut Butter Cookies (or Flourless Almond Butter Cookies if allergic to peanuts; sunbutter would probably even work although I haven't tried it yet)—These are super easy to make, delicious cookies; nobody ever believes they are gluten free, much less grain free.
Crustless Pumpkin Pie (the gluten-free, dairy-free version … trumps the one that's just gluten free)—This recipe teaches folks the easy method of making gluten-free pies; nobody ever misses the crust. Using coconut milk makes this pie dairy free and decadent tasting.
Flourless Pizza–Pizza is another dish that really causes folks angst when they go gluten free. This recipe has a crust made of eggs and cheese. The fact that this pizza tastes like, well, pizza, amazes everyone. It's so easy to make, too.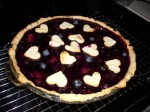 (Cheryl's note: I hadn't seen the pizza recipe before, and wow, I'm intrigued!  And I've really enjoyed her roasted chickpeas and blueberry pie–not together, though!)
"From other blogs … I did (naturally) manage to find a variety here. These are my current favorites. I could have listed dozens of favorites. There's really so much talent among the food bloggers I read.
Vanilla Bean Cake (The Spunky Coconut)—A wonderful, grain-free "yellow" cake that's made from white beans. It's great even without frosting. Seriously.
Winter Green Smoothie (The Whole Life Nutrition Kitchen)—Actually a slight variation of this recipe, which is in The Whole Life Nutrition Kitchen Cookbook, is the one I use. That recipe introduced me to green smoothies and I've never looked back.
Mexican Pizza (Cook IT Allergy Free)—I love this quick prep, gluten free, dairy free option for pizza! It's loaded with nutrition, too."
And of course, I enjoy Shirley's way of blogging as much as I enjoy her recipes, so I wasn't surprised to hear her favorite parts of blogging:
"What I enjoy most about blogging is the emails and comments I receive from readers who tell me that gfe approach is making their gluten-free lives happy and healthy. To hear that readers just had their best holiday ever, that they are no longer sulking in the corner and making do with salads, that EVERYONE of their family and friends loves a recipe and has no clue that it's gluten free (or doesn't care if they do know), that folks are learning to really cook because of gfe … well, that's just huge to me. I truly hear those types of things daily and that feedback makes me know that sharing the gfe approach is worthwhile. It's very humbling to say the least."
I sincerely appreciate that Shirley took the time to share some of her favorites!  And if you're interested in seeing the other "Best of the Best" profiles, there's one on Amy of Simply Gluten and Sugar free and Ricki of Diet Dessert and Dogs, too.