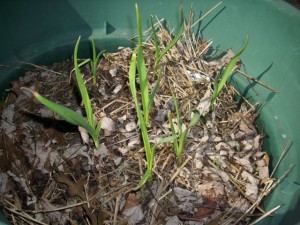 See those babies?  They're actually garlic shoots, which is a nice reminder that Spring will eventually be here.  I took those this week, I guess somehow I knew that our hostess, Michelle of Gluten Free Smiles would go with a garlic theme!
Last week, I posted on Shirley of GFE in my "Best of the Best" series, and if you'd like to know her favorites, do go check that out!
It's been a busy week and I've done a lot in the kitchen.  I made two Daring Baker treats, which will be posted next week.
Looking ahead, DH will be out of town, which essentially means I'm on break from kitchen duty.  Love to cook, but LOVE the breaks, too!  So food will be simple.
Monday:
Salmon and avocado on baby greens with herbs
Tues:
Kalamata hummus on baby greens with herbs
Weds:
Yummy Lentil Dal
Thurs:
Quinoa with Kale Pesto
(my garlic contribution for the week)
Friday:
TBD