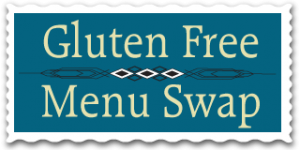 I can't believe it's almost February.  I think we (I) am going to make it through this winter after all…and I can't wait until Springtime!  Have I mentioned I don't really like Winter?  Pomegranates are really the most redeeming quality of the season.  And those have been scarce lately.
Anyhow, I've finally started to kick that bug from last week and am getting back in the swing of things.  Not quite back to baking yet, but hopefully in a day or two.
I also began a new series "Best of the Best", interviewing my favorite bloggers on (what else?) their favorite foods!  Yesterday I posted an interview with the lovely Ricki Heller of Diet, Dessert and Dogs on her faves.
A big thanks to Heather of Celiac Family for hosting the Menu Swap.  (If you're interested in hosting, the rules and etc. are here.)  Heather has chosen nuts as her ingredient, and I couldn't be more delighted.  If we are what we eat…well, it all fits.  I love nuts.  And I eat a lot of nuts, especially since going grain-free.
A few of my favorites, although to be honest, most of my recipes contain nuts or seeds:
Nanaimo Bars Redux (GF, CF, EF, SF, sugar free and vegan)
Banana Mac Chip Cookies (GF, CF, EF, SF, low sugar and vegan)
Sniffle Stew(GF, CF, EF, SF, sugar free option and vegan)
But I confess, my most common way of eating nuts is nutbutter…by the spoon.
Brazil nut butter…hazelnut butter…cashew butter…almond butter…really, there's no limit to the delightfulness possible.
But I digress.  Onto the menu planning.
Monday:
Baked rosemary chicken with roasted cauliflower with garlic
Tues:
Weds:
Not quite sure the best title, but broccoli and cannelli beans with pesto and chicken for E
Thursday:
Roasted butternut squash, but main course TBD

Friday:
Leftovers!
Treats:
something nut based, of course, but I'm still feeling too iffy to be craving food. Yet.