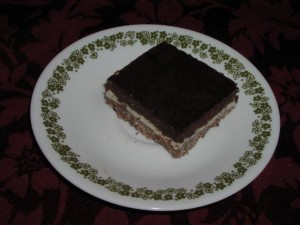 I have to share a secret: few people enjoy food as much as nutritionists. Honest. In grad school, I had a friend Michelle who is a wonderful baker, and I got her recipe for Nanaimo bars. I'd make a huge batch, and they'd be in the freezer. Late at night, we'd be studying, and I'd hear the footsteps, then the freezer door open….footsteps away…then 30 seconds later, footsteps scurrying back to the freezer to get another. The overwhelming consensus was that the bars are totally addictive.
With all of my food limitations, I usually don't try to replicate recipes from the past. I generally explore new territory, because I don't want to make things that are *almost* like the real thing, I'd much rather make something different, but wonderful in its own right. But when I heard about Chef Jeena's "It's all about memories" food event, I couldn't resist giving these a whirl. If you're Canadian or have had Nanaimos before, they need no introduction, but if not, they're super rich, loaded with sugar and amazing My challenge was to de-gluten, dairy, corn, soy and egg them, take out all the artificials but mostly to de-sugar them.

I did them two ways, half close to my memory of the old way, just gluten free, and the other half a batch made of "real food". Ether way, the bars are quite decadent, but the "redux" is rich from macadamias and coconut, instead of powdered sugar and powdered pudding.
I found the new version bars to be blissful and I think I quite literally swooned. My tasters enjoyed both versions of the bars. If you're sugar free, the agave sweetened chocolate is quite lovely. If not, you can use the standard chocolate topping or even the traditional filling from the official recipe.
The bars are best kept in the freezer and are good for months, if you hide them well. I don't know how they keep at room temperature. Here, they're usually devoured upon sight.
Base (for TWO 8X8 or 1 9X13)
2 cups whole almonds
2/3 cup whole or chopped walnuts
1 cup shredded coconut (unsweetened works fine, and I used reduced fat because that's what I had)
generous 1/3 cup coconut oil, melted
1-2 Tablespoons cocoa powder, to your preference
scant 1/4 teaspoon stevia powder (optional)
1/4 cup water with 2 teaspoons whole Salba or chia seeds (or an egg)
Filling (for 1 8X8: double for 2 or a 9X13)
2/3 cup raw macadamia nuts, cashews, or a mix
1/2 – 2/3 cup agave (to taste)
2 teaspoons honey or maple syrup
2 Tablespoons sweet rice flour
1 cup of water
2 teaspoon vanilla extract (you could sub vanilla powder, I'm sure)
Chocolate topping(for 1 8X8: double for 2 or a 9X13)
3 oz unsweetened chocolate, chopped
1.5 Tablespoons cocoa butter
1.5 Tablespoons coconut butter
1.5 Tablespoons Dari free, soy milk powder, coconut milk powder or *gasp!* powdered milk (optional)
1/4 cup agave nectar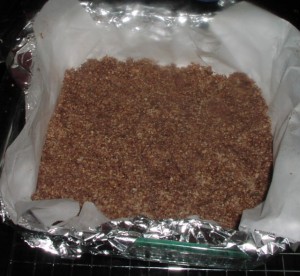 Soak Salba seeds or chia in 1/4 cup of water (or, if not vegan or egg allergic, use an egg and add with wet ingredients). In a food processor, grind the almonds to a fine meal. Remove. Grind walnuts to a coarse meal. Add coconut, cocoa, stevia (if desired), Salba gel and combine with melted coconut oil. Press down into a 9X13 or 2 8X8 pyrex dishes. Bake for 15 min or so at 350 until slightly browned. Allow to cool.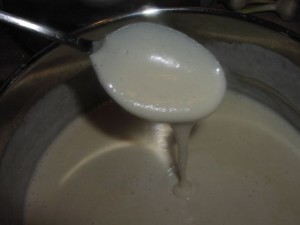 Make the filling:
Soak 1/2 cup of macadamias or cashews overnight. Drain. Put nuts in a blender with the water, and blend on high, scraping down sides periodically, until smooth. This may take a while! Add in the sweet rice flour.
Cook over medium heat in a saucepan, stirring, until mixture thickens. It should be a good deal thicker than cream, and it will thicken after cooling, too. Remove from heat, whisk in the vanilla and coconut oil and refrigerate until cool (30 min or so). Pour onto the base, and freeze until firm.
The chocolate topping:
Melt chocolate and cocoa butter in the microwave or over a double boiler. Add in the rest of the ingredients and whisk together well. If it's grainy, you may need to cook a little longer until it dissolves.
Quickly pour onto the base, chill in the freezer.
Once they're hardened, slice with a sharp knife. Remove from freezer 20-30 min before serving, if you can handle that. (I can't)
Enjoy.
What can I say? As long as I can have treats like these, I'm happy to keep the originals as a luscious memory.
~from Cheryl's kitchen ©2008. Please do not replicate without crediting/permission.