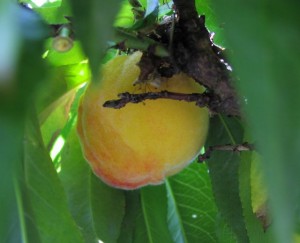 I love peaches so much that I actually got a peach tree for my birthday last year. This was her first year, so she only had 3 peaches, largely due to my own ignorance in how to care for peach trees. But either way, peaches are the ingredient of the week from the MPM swap, hosted by Natalie at Gluten Free Mommy.
I will have to stick with "plain" peaches, (as if there is such a thing!) since I already went food shopping and we're heading out of town half way through the week for a conference in Boulder. It seems that Boulder is very GF friendly and I am crossing my fingers and hoping that the stars align and that I get yummy safe food.
Also, this is the Adopt a GF Blogger headquarters for July, AND I am the hostess of Go Ahead Honey, it's GF–Uncooking edition.
Monday:
Grillin'
Moroccan Kebabs with sweet onions skewers for me and roasted corn (for DH)
Tuesday:
Vegan
Quinoa with a lemony thyme sauce,pine nuts and broccoli and a side of avocado
Wednesday:
Plain and simple:
Roasted turkey with celery in a chestnut sauce
Sauteed onions, garlic and green peppers–my newest obsession
Thursday:
Travel food
Something from my freezer
Canned tuna and carrots and whatever else I can find!
Friday:
Out to dinner
Garden roundup:
From my garden
Tomatoes
garlic
ground cherries
raspberries
blueberries
green peppers
parsley
basil, oregano, thyme, etc.
From the market:
Onions
cherries
peaches
broccoli
cabbage
Baked good of the week:
I made a "whole foods" version of Nanaimo bars, and those will keep me all week, for sure! I'll post the recipe soon.
Dried cherries: I'm putting my dehydrator to work, which is very new for me.