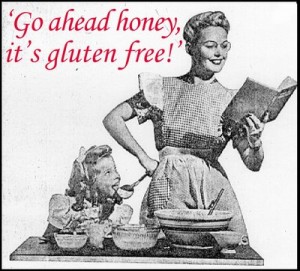 If you can't stand the heat, get out of the kitchen??  Nah.  Stay in the kitchen, honey, just turn off that stove an oven and we'll have some yummy, summery, home un-cooking.
Un-cooking can be anything, from pineapple salsa or black bean salad to a your favorite smoothie…maybe a super yum pesto sauce, a fresh melon soup or maybe you're a raw food kinda person and have favorites to share!  Hungry yet?  I am! I'm thinking of making banana ice cream, but will likely change my mind a few times (as usual).
I'm  the happy host for July's edition of Go Ahead Honey, it's GF as started by the Naomi of the drool worthy Straight into Bed Cakefree and Dried.  You can send your entries to Cheryl (at) eharrishome (dot) com by July 27thJuly 31st. Let the fun begin!