Tomorrow should be a busy day so I'm getting this post up early. I even posted a recipe for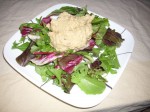 (pictured) for the occasion.
Last week was busy, I'm studying for exams, teaching classes and seeing clients. All good, fun things but it often feels like being pulled in a few directions, especially since it's so nice outside that I just want to pitch it all and head outdoors!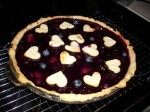 I ended up making an impromptu peach crisp because there were so many beautiful peaches, and Shirley's Blueberry Honey Pie.
Heather of Celiac Family chose beans as this week's ingredient. I'm delighted she did! I love beans, and some of my favorite recipes with beans include:
Red Lentil Dal
Chocolate Fudgy Frosting (bean based and delicious!!!)
Chickpea Crackers
Bakewell tart
and this makes me realize how many bean based recipes I haven't posted yet!
I ALSO have recently discovered how amazing heirloom beans are, and I assume I'll be making them from scratch much more often.
Onto the menu!
Monday:
Nightshade skillet meal with tomatoes and peppers from my garden
Tues:
Roasted thyme chicken with roasted cauliflower
Weds:
I'll actually be visiting family, so who knows.
Thursday:
A version of chicken parm–DH has been asking for quite some time
Friday:
Red Lentil Dal from the Gluten Free Girl's new book
Baked goods:
I really want to make something fun from Ricki's book, Desserts without compromise and I just need the time…but oh, the choices! Will it be Mint Chip Ice Cream? Mounds Bites? Life is so hard.