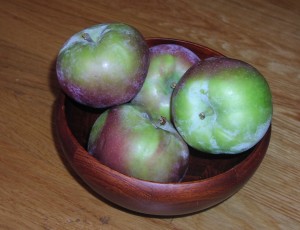 I've been largely occupied with studying, which means baking and making excuses for not studying. So it was a fun week of baking/cooking 'round these parts–I received Shauna's book, and made the fococcia and spiced walnuts, which I'll post this week.  In summary: holy yum.
And I also made carob sweeties and Hazelnut cookies from Ricki's new book, and, BTW, she has a great giveaway for Amy's products on her site, so scurry on over!
Our hostess this week is Chickiepea of Eating for Autoimmune Health. This week's theme is apples, and as a NY'er, apples are almost holy. This week I got some Liberty apples at the Farmer's market and I'm curious how they work in a crisp. Even though my favorite apple use is just to eat them! And calling all hosts…email me if you'd like to host the menu plan.
Monday:
grillin'-steak and peppers (E and I both get our favorite thing!)
Tues:
Roasted salmon, maybe? I need to figure this out
Weds:
Southwestern Quinoa and Beans
Thursday:
Faux chicken parm
Friday:
Out to dinner–date with DH
Baked goods:
either apple squares, brownies or a chocolate rasp cake. I can't really go wrong, can I!