Another Daring Baker Adventure…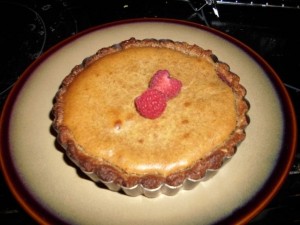 The June Daring Bakers' challenge was hosted by Jasmine of Confessions of a Cardamom Addict and Annemarie of Ambrosia and Nectar. They chose a Traditional (UK) Bakewell Tart… er… pudding that was inspired by a rich baking history dating back to the 1800's in England.
I love Daring Bakers, because I get to do something out of the ordinary and stretch the limits of what I can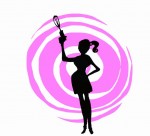 do in the kitchen. Quite frankly, I'd never heard of frangipagne, or even a Bakewell tart, for that matter! But I was pleasantly surprised, delighted, even! to see how marvelously things turned out.
Given my gluten free, vegan, soy free, sugar free, and usually grain free limitations, this little tart posed a wee bit of a challenge!  It's a shortcrust pastry, with jam, with a frangipane topping (for the uninitiated, this means a yummy almond paste).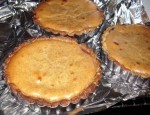 Substituting an almond flour crust was super easy.  Making a faux raspberry jam with fresh raspberries, agave and chia seed wasn't so hard.  But the spongy frangipane, with the sugar and eggs did puzzle me for a while.  Most of my alt DB brethren were using tofu, which I can't have.  I opted for baking on a almond butter/white bean paste, and was totally delighted with how yummy it all was.  The texture of the topping was a bit reminiscent of cheesecake texture and mouth feel, and was delicious out of the oven and also refrigerated, too. I do strongly suspect that it wasn't anywhere near an authentic frangipane, but it was yummy. Possibly less water and a little more baking powder would make it more spongy, but it was delicious as is.  The only down side was that it did stick to the tart pan.  I'd make them in mini springform pans next time and line them to make clean up easier.
Part of the challenge was also making jam.  I did try this, but not for my tart, because the recipe I was using had sugar.  I used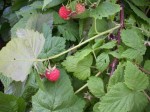 Nigella Lawson's recipe, which was quick and easy, and made good use of our fresh raspberries.
What a rich and yummy treat!  I ate mine, and half of my DH's too (well, you snooze, you lose!!)
Crust–
a simple mix of almond flour, agave, mesquite and oil. I didn't measure!
Filling:
1 1/4 cups of fresh raspberries
1 rounded tablespoon ground chia
3 Tablespoons agave
"Frangipane" (or just yummy) topping: for 3 mini tarts
1/2 cup white beans, washed and well drained
1/3 cup agave nectar
1/2 cup smooth almond butter
3 Tablespoons water
1/2 teaspoon baking powder
For the filling:
whip ingredients well in a Vitamix until smooth, scraping down as needed
For the topping:
In a food processor, process beans. Add in other ingredients and mix thoroughly, scraping down as needed.
Assemble tart, baking at 350 for 20-25 minutes or until browning on top.
Check out what the rest of the Daring Bakers did with their challenges! There are some gorgeous tarts out there.