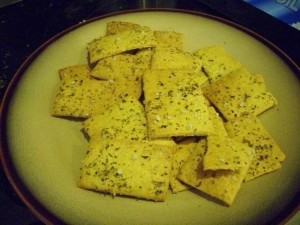 These crackers are a staple that I make just about weekly. They're easy, versatile, yummy, healthy, and lend carb-y goodness that seriously needed on my grain free diet. I do constantly tweak them just a bit and play with different flavors, and you can add whatever spices suite your fancy. So give them a whirl! You'll enjoy them.
Preheat oven to 325.
1 can garbanzo beans, rinsed well and put in a strainer to drain
1/2 teaspoon baking powder
3 Tablespoons ground flax seed
2 cloves garlic
1/2 teaspoon Italian seasoning dried herbs (blend de jour of oregano, basil, rosemary, thyme, etc.)
1/4 teaspoon black pepper
1 Tablespoon olive oil
Italian seasoning dried herbs
coarse sea salt
Shake as much water you can from the garbanzos and blot them with a towel. Pulse in a food processor. Add rest of ingredients through black pepper and blend well. Add oil, and the dough should come together into a ball. If not, add a little more until it does.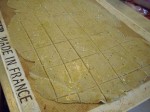 Cover with saran wrap for ease and roll out thinly on to 2 silpat mats or parchment paper (not as thin as you possibly can, but close). Use a pizza cutter to cut the crackers into sizes of your choice, and sprinkle with seasoning and salt. For prettier crackers, prick with a fork. Bake in preheated oven until slightly browning (around 30-40 min), watch them after 20 min or so.
You do have to turn the sheets periodically, and rotate the crackers when you're able for the best results. The outside crackers brown much quicker–those usually just go directly to my mouth.