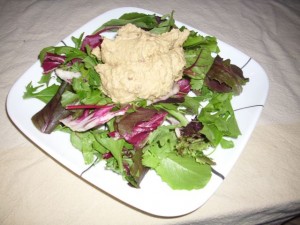 I got a new toy, a food processor. I broke my old food processor, which has been a huge bummer. I didn't realize how much I used it! And, it kept me from exploring Ricki's fantastic e-book, Desserts without Compromise. But now, no excuses, and I'm eager to get playing.
I love hummus, but oh, hummus has not loved me. Or more specifically, tahini and I don't mix well. Since I come from a Middle Eastern family, this was pretty much a travesty. It didn't matter for years because beans bothered my stomach, but fortunately, now they don't. And it became clear after experimenting that there were plenty of good substitutes for tahini! I usually either use Brazil nut butter or Sunbutter (brazil nut butter has a richer taste). And I use Kalamatas rather than olive oil because my innards tend to be sensitive to the amount of fat I eat…even good fats…and this was a way to get great flavor without a tummyache.
1 can garbanzo beans, rinsed well and drained
2 cloves garlic
1-2 Tablespoons lemon juice
1/3 cup water
1/4 cup Brazil nut butter or Sunbutter
pinch salt
1/2 tsp ground cumin
1/4-1/2 tsp cayenne
18-20 Kalamata olives with a little of the brine included
Combine the first group of ingredients in the food processor until smooth. Add in Kalamatas and pulse. Adjust seasonings as desired and enjoy with red peppers, on a bed of greens or whatever works best!