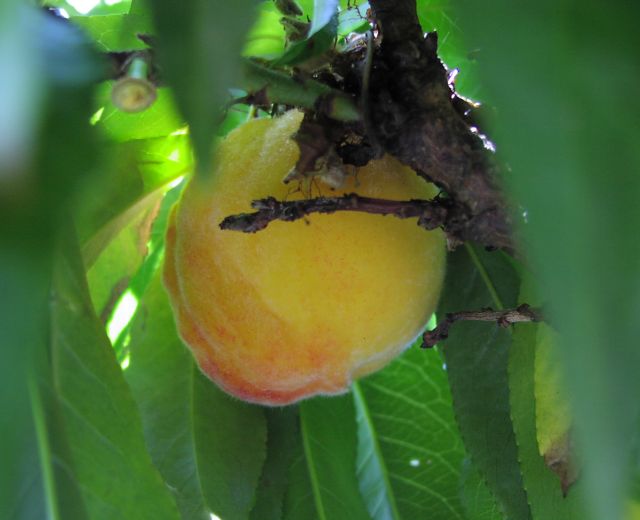 I can't believe it's Monday…since we're off and lounging around, it just dawned on me that it's time to post.
It's a funny time of year.  The last few days have been absolutely beautiful, and yet the chill in the air early in the morning is unmistakable.  It always hits me sometime in September that the summer isn't going to last forever, and I have to savor every drop of my garden, the sunshine, and of course, the harvest bounty.
And so…this week was a week of celebrating summer!  Blueberry peach jam, oven roasted tomatoes, Shirley's Blueberry Honey Pie, Thai Iced tea with macadamia cream…did I miss anything?
This week's theme is peaches, and is hosted by Michelle of Gluten-free: A Reason to Smile (she formerly had the blog cooking and uncooking).  I'm pretty sure we'll use our peaches raw, and in a peach crisp which I should be making for a class next Saturday in McLean on "Organic, Natural, Wild-Caught, Free-Range, Gluten-Free": Are These Foods Really Improving My Health?"  I'm looking forward to it.
Monday:
Grilled peppers and steaks
Tues:
Lemony Mint Quinoa
Weds:
Rosemary Salmon and garlicky broccoli
Thursday:
Hummus on a bed of organic greens with herby crackers
Friday:
Leftovers!
Fun treats:
Peach crisp, fig preserves…???