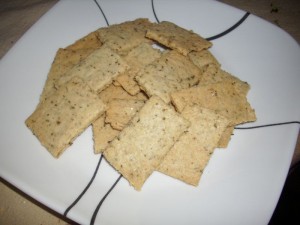 I was surprised to see Elana's recipe for Vegan Herb Crackers, especially since I had been planning on posting mine this week! Upon looking at the recipes, they're quite a bit different so I figured I'd go ahead and share them. These are delicious, and keep well for a few days (but only if they're hidden so I can't find them).  I really love the rich flavor and the hearty texture.  Like Elana's, these are vegan, but mine use Salba seeds to boost omega 3 content.
The only drawback (which I find with all almond flour products) they are so dense and rich, I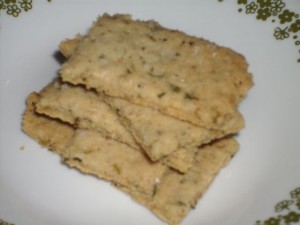 can't have anything rich with them, and I usually make tiny crackers–maybe 1 inch by 2 inch.
I did not give exact cooking times because depending on how I roll them, there always seems to be a range despite my best efforts. I've rolled some thick and some thin to try to figure out which I prefer, and I must confess, the crackers disappear and I still haven't made up my mind, so I'll leave that important question for all of you to ponder.
3 tablespoons of water
2 teaspoons ground chia or Salba seed
1 cup blanched almond flour
1.5 teaspoons dried Italian herb blend (mine has rosemary, thyme, basil, marjoram, etc.)
pinch sea salt
1/2 teaspoon baking soda
1 Tablespoon olive oil
Fresh ground salt and pepper to taste
Mix ground Salba with water, sit for 10 minutes. Combine almond flour through olive oil and preheat oven to 325. Thoroughly incorporate Salba gel, scoop into a ball and chill 5 minutes. Roll out very thinly between parchment paper or parchment and a Silpat. Cut into pieces with a pizza cutter and sprinkle with salt and pepper, pressing down slightly.
Bake until browning, peeking after 20 minutes and turning the cookie sheet if your oven is uneven like mine.
Cool and enjoy!
I'm submitting these yummies to Simply Gluten and Sugar Free's Slightly Indulgent Tuesdays, which are extravaganzas of great and inventive (healthier) treats.