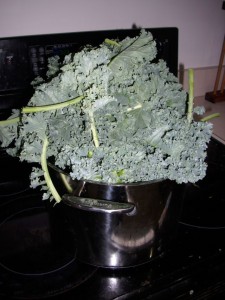 If you've got it, flaunt it!  And I've got kale.  Gobs of kale.  I have no idea why I have so much.  Kale is a winter crop, and it's been much hotter than usual.  It hasn't even bolted!  So as you can see above, I have all that I could want and then some.  Massive amount of kale pesto (my current kick) have been served along with quinoa or on fish.  And the kale has done better than anything else in my garden this summer.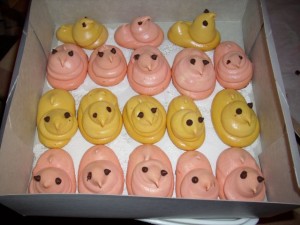 What a week.  I had a slew of birthdays to bake for so there were two mini-cakes (1 genoise, 1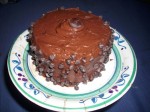 chocolate) and meringue peeps.   I guess those babies aren't in season either! And since I couldn't eat any of the three, I made myself Sunbutter versons of Easier Easy Almond Cookies.  So yes, the pile of dishes in my kitchen is quite impressive and I'm going to have to deal with that ASAP.
Onward to the meal plan!
Monday:
Hummus and peppers–my very favorite-most easy meal
Tues:
Minty chicken with carrots
Weds:
Roasted rosemary and garlic salmon and roasted cauliflower
Thursday:
Chana masala with spinach (this is really pushing the envelope–DH dislikes chickpeas AND spinach, so we'll see)
Friday:
Leftovers
Sweet treats:
My first go at the Daring baker challenge was technically a fail, so I'll be redoing one of the elements.
And every one else?
Wendy of Celiacs in the House has a bunch of seasonal fruit desserts and the most lethal looking chocolate torte I have ever seen. No joke. Also, she's got some nice gluten-free cosmetics, so check them out!
Heather, of Celiac Family has a bunch of seasonal veggies on the menu, such as green beans, tomatoes and more. Seven layer salad caught my eye because I haven't had it in so long and it's so yummy. She also has a nice review of animal crackers from last week that are just in time for back to school
Manda pops by to join us from Asparagus Thin. As always she has exotic fare, such as African style veggies, and I've never (in my 10 years as a dietitian) pondered precisely what food group alligator falls into until reading her post. I know it's a protein, but…And Manda's going though a lot, so send a little love her way.