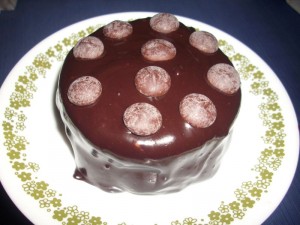 So August seems to be birthday month.  DH's birthday is today and another good friends' birthday was yesterday, so there has been an abundance of treats.
DH's cake: (top) a genoise with raspberry filling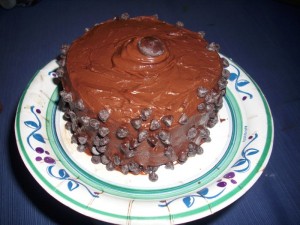 and chocolate liquor ganache
Cathy's cake:(below) Chocolate Cupcakes with chocolate frosting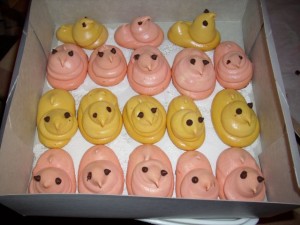 And last but not least, peeps!  Actually, peep-ish meringues.  The inspiration was 
Heather's duckies.  The birthday girl had inquired if it was possible to make natural peeps, and I had to think about it.  The answer, BTW, I believe is no.  I tried using the veggie food dyes, and the meringue peeps totally…de-peeped…into puddles.  I ended up caving on using the food dyes from the grocery store (you know, the ones with blue dye # whatever) and those worked well, as you can see!
So needless to say, there are an abundance of treats at the Casa de Harris.