I am so glad to be focusing on self-care this month, with our lovely hostesses, Valerie, Shirley, Iris, Kate, and  Carrie 
I definitely need it. I started a new project and the nerve pain in my legs and back got out of control…and I didn't realize how good things had gotten until I saw how bad this was. Some of it has been the physical stress, but some has definitely been the anticipation/fear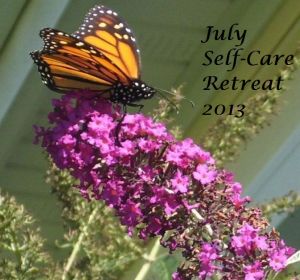 /overwhelm/eeek!/woohoo kind of stress. Good, bad, ugly…all the colors of the rainbow.
It's such a balancing act. "Playing it safe" for me equals regret and resentment, so I do push myself to do and try things that stretch my limits, or show me where my limits are. I haven't figured out yet if it was "worth it" but sometimes in life I have to leap and give myself the opportunity to see what I can do.
So especially since I'm feeling quite depleted, self-care is taking center stage. I've been pondering my self-care goals for the last few days. Wisdom generally dictates that 2-3 goals is a good plan. And yet I reserve the right to chuck wisdom out the window—when I really need to replenish, I do really need to jump in to self-care headfirst. So here goes:
Do a compassion or gratitude meditation 4 times a week (I'm hoping for daily—this gives me wiggle room)
Take 2-3 days off in July and DON'T JUST DO WORK FROM HOME
Go back to kitty snuggle times when I get home from work, ideally daily, but 4 days a week works for me
Drawing—at least 3 days a week, hopefully 5. Bonus points for breaking out the fingerpaints.
Our fantastic group of bloggers:
Before we get into the "rules", know that the main "rule" is to relax, enjoy, take good care of yourself and have fun.
Why join us? Because self-care takes a village, too.
These posts are to inspire you all to make July a month of reflecting on self-care and the many ways to nourish ourselves.  We encourage everyone to participate in this event in a way that feels appropriate to them, whether through making different choices around food, adding in movement, personal reflection, journaling or other self-care.  If you would like to share your experience with self-care, we would love to include you in the experience, whether you join us for one week or every week. We ask that you link back to this post so that more people can learn about this retreat, and leave a comment for the weekly theme host, too! That way, we can make sure we see your post and that you're entered into the drawing.
ADDENDUM: NOT A BLOGGER? FEEL FREE TO EMAIL ME OR ONE OF THE OTHER HOSTESSES YOUR GOAL/PROGRESS AND I/WE WILL POST IT ON OUR BLOG.
As a little added incentive, for each post on your goals and your progress you link back here or one of the other co-hosts, you'll be entered to receive a $50 gift certificate to Nuts.com  (they are not sponsoring, I just wanted something with healthy gluten-free, vegan, sugar-free, etc. options)
We also have a Facebook group and we'd love to have you join us! Just send along a request (it's listed as a private group.)
Curious about past retreats? Recaps for July Retreats 2011 & 2012 are here:
http://www.gfgoodness.com/2012/08/05/a-july-self-retreat-recap/