Holy heck, it's almost July. And so, if you've been following this blog for a while, you know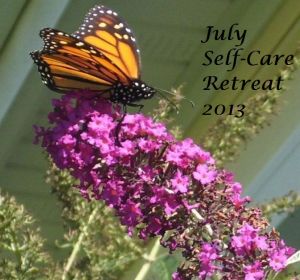 that means it's time for the July Self-Care retreat. This is actually retreat #5 and our 3rd July retreat—man how time flies!
To be totally honest, this is just about the worst time for me to do this. I've started a new challenging project and that's where most of my "spare" time is going. But that also really makes it the absolute best time for me to be doing this, because when I get busy, self-care is so much harder and yet so much more necessary
There's a great story from the Dalai Lama where a student asked how long we should meditate a day. And he said, 30 minutes. "30 minutes!" exclaimed the student. "But what about when you're busy?"
"Ah", said the Dalai Lama. "When you're busy, you need a full hour."
That's definitely my experience. When I'm under stress, it's so much easier to put off whatever form of self-care of whatever kind, and yet that's when I need it most.
I'm really glad to have this support to help me along, because I really need to focus back on what is really important–taking care of ME so that I have the energy to do other things I care about, which includes taking care of others.
Our fantastic group of bloggers:
Before we get into the "rules", know that the main "rule" is to relax, enjoy, take good care of yourself and have fun.
Why join us? Because self-care takes a village, too.
These posts are to inspire you all to make July a month of reflecting on self-care and the many ways to nourish ourselves.  We encourage everyone to participate in this event in a way that feels appropriate to them, whether through making different choices around food, adding in movement, personal reflection, journaling or other self-care.  If you would like to share your experience with self-care, we would love to include you in the experience, whether you join us for one week or every week. We ask that you link back to this post so that more people can learn about this retreat, and leave a comment for the weekly theme host, too! That way, we can make sure we see your post and that you're entered into the drawing.
As a little added incentive, for each post on your goals and your progress you link back here or one of the other co-hosts, you'll be entered to receive a $50 gift certificate to Nuts.com  (they are not sponsoring, I just wanted something with healthy gluten-free, vegan, sugar-free, etc. options)
We also have a Facebook group and we'd love to have you join us! Just send along a request (it's listed as a private group.)
2013 Posts thus Far:
My Self-Care Goals 2013 GF Goodness
Guest Post from Linda on Self-Care
July Self-Care Goals on City|Life|Eats
Wrap up and July Challenge on Eat, Recycle, Repeat
13 Self-Care Lessons from the Masters GF Goodness
Debi of Hunter's Lyoness on Unconditional love
City Life Eats on Infusing some new into yoga
Iris of Daily Dietribe on Letting Go
Cheryl of GF Goodness (me!) on Re-Writing the Story
Carrie of Ginger Lemon Girl on Emotional and Spiritual Growth
Kate of Eat Recycle Repeat on "How to Surrender"
Cheryl of GF Goodness (Me!) on Depression and Self Care
Curious about past retreats? Recaps for July Retreats 2011 & 2012 are here:
http://www.gfgoodness.com/2012/08/05/a-july-self-retreat-recap/