Okay, I admit, I've gotten carried away with Carol's new book AND I've gotten a mess in the kitchen to prove it.  I've already made the cornbread and the Devil food cake as cupcakes, and the only reason I've been slowing down is that I ran out of sorghum flour!
I was so taken with the cupcakes because they looked JUST like the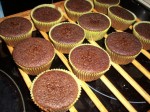 real thing, and the smell was just heavenly.  It's so wonderful to be in a kitchen that smells like chocolate, isn't it?  DH took a batch of 12 to his martial arts class, and there were 5 glutinovores present, including him.  And yet when I returned, there was just a crumb trail left and no cupcakes in sight.  I think that speaks for itself!  I did find that the recipe batter made more than 12 cupcakes, though.  I'd say it was closer to 16.
And if you do have the 1000 GF recipe books by Carol, check out the yellow cupcake recipe.  I think it was one of the quickest disappearing recipes I've ever made.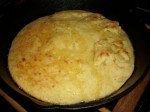 Cornbread overall is one of DH's favorite foods, so I had to try it out!  I made it in cast iron skillet because I don't have metal square pans, so that may have affected the time a bit. It was a little moister than the recipe we used to use, but we'll be making it again soon for sure.
Stay tuned for decadent cookies and the crumb cake!  And I'll also be giving away a bottle of Salba and picking a winner next Thursday.