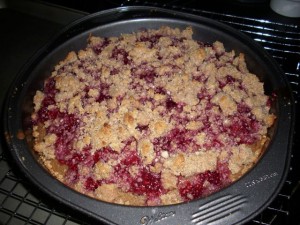 Kim of Gluten Free is Life is the winner of the bottle of Salba.  Yay Kim!
I'm enjoying the journey through 100 Best GF Recipes by Carol Fenster.  I've made the cornbread and devil's food cake cupcakes, and just made the crumb cake.  I couldn't resist topping it with homemade raspberry jam right before the end, as you can see…  It was a great treat at brunch.
I still plan to make the butter cake and the molasses bread, but those will have to wait until next week.  And someone commented on the last post and said she hadn't tried Cooking Free.  That is one of my favorite GF cookbooks, and is perfect for someone who is vegan or has other food restrictions.