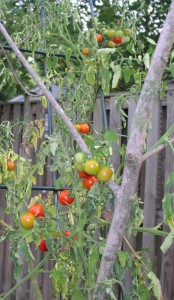 What a tasty week!  I received a copy of Carol Fenster's 100 Best GF recipes and I've gone a wee bit overboard making them. I enjoyed 1000 GF recipes, but honestly, the book was so big it was a bit unwieldy.  This is…bite sized, shall we say?
I've also posted some thoughts on agave, since new research has come out.  In a nutshell, I'll continue to use it but have been giving more thought to incorporating other sweeteners and using it less.  I'd love to get other thoughts.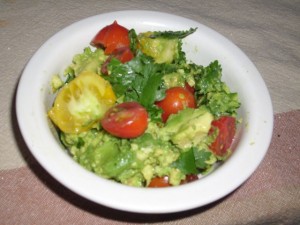 This week's theme is tomatoes, as chosen by Heather of Celiac Family.  Well, we've got some tomatoes, but not as many as usual, since the weather has been so erratic and I haven't been on the ball.  However, I made Salsa mole (pictured above) with them just yesterday, and it's so delicious this time of year.
Monday:
Salmon and peppers
Tues:
Quinoa Italiana
Weds:
Malaysian Curry, with a recipe from the Spice and Herb Bible
Thursday:
Lentil stew, which I'll post soon
Friday:
Salsamole and crackers
Baked goods:
most likely, crumbcake and decadent chocolate cookies from Carol Fenster's 100 GF recipes