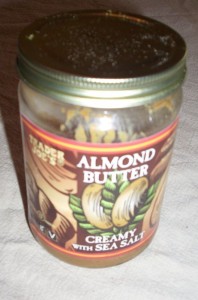 As I looked through the Menu Swap List, I was shocked to realize that we haven't had almonds as our ingredient.  At least, not since I've been hosting, which is quite a long time.  So I think we're due!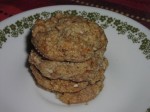 Almonds are fantastic, and one of the healthier nuts with great monounsaturated fats, calcium, fiber…good stuff all around.  And because of the fabulous sweet taste, they're great for baking.  The one problem is that they're so yummy it's so easy to overeat!  And, of course, it's easy to overeat my favorite almond indulgence–almond butter with a spoon.
Some of my almond based favorites: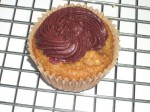 And yours?
Please do check out a recent post on healthy eating and necessary testing on Wendy's website.  She's got a great series, 30 days to 50, an inspirational journey into a return to health for a midlife Celiac.
And onto my menu plan:
Monday:
Quinoa and Kale pesto with garden fresh tomatoes
Tues:
Roasted rosemary salmon with broccoli
Weds:
Nightshade skillet meal–a great way to use up those baby green peppers
Thursday:
Chicken in a basil sauce
Friday:
Leftovers
To make:
my Daring baker assignment for July
And everyone else?
Wendy of Celiacs in the House has beautiful pictures, as usual, and she catches us up on her progress of her 30 days to 50 series (which, by the way, has a lot of info from a variety of sources on health and weight loss for someone with CD nearing 50).  It's clear she's got an abundance of zucchini in her garden, between the zucchini bake and the zucchini chips.  And there are links to other gorgeous salads, like black eyed peas and cukes.
Heather of Celiac Family has a great menu planned.  She's reminded me of Kalyn's Tomato, Cucumber and Avocado, which is just fabulous.  And rumor has it that her yummy shredded chicken is its name, and I'm looking forward to trying it when it gets a little cooler.
You know, I just love how Scrumptious treats us to such lovely pictures of the market and her culinary creations.  The mujadara lentil dish she has looks amazing.  Onions caramelized within an inch of their lives are ALWAYS the way to go! Mmm…caramelized onion.  There I go drooling again…