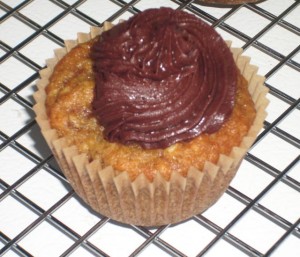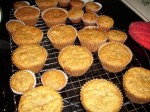 E, (aka DH) has developed food intolerances to bananas and eggs, so it was time for both to leave the premises.  So I went hunting for something that looked delicious, and made Elana's Banana Cream Pie Cupcakes with my VERY favorite (vegan and sugar free) Chocolate Fudge Frosting.  And.  Oh.  My.  Yum.  Many glutenevore sugarholics scarfed these babies down and loved them. Elana's recipe was a winner for sure, and in the unlikely case anyone hasn't seen her website and book, you're in for a treat!  And unlike many books, the recipes in the book are different than the ones on the website.
I LOVE lovelovelove this frosting.  It has a very intense chocolate taste. And no one will ever guess the 'secret' ingredient.  It's also perfect for pre-making.  The longer it sits, the better the flavors meld.  I usually make a batch and put it in a pastry bag and leave it in the fridge to get firmer overnight and leave it on the counter to soften a bit before frosting. It's the perfect topping for anything or anyone yummy.
And I'm not going to pretend it's health food, but my goodness, that's as close to 'healthy frosting' as possible, I think! I'm submitting this recipe to Amy's Slightly Indulgent Tuesdays, because despite tasting very indulgent, when the main ingredients are beans and nuts and you're getting gobs of antioxidants from the cocoa, I feel I can stand behind them proudly as a dietitian.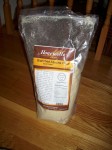 A big thanks to Honeyville Farms.  I'd gotten a bag of the almond flour and it tasted funny (please do keep in mind that I'm the princess in the pea when it comes to food) and they replaced the bag, and the new stuff is super yummy as usual.  I love companies that stand behind their products.
1 can of cannelli beans (navy beans also work)
1 cup of agave nectar
1/2 cup macadamia butter
2 teaspoons vanilla powder/extract
1/2 tsp cinnamon
2 teaspoons stevia concentrated powder
2 oz good quality unsweetened chocolate, melted (ahem! Sharffenberger)
1 Cup cocoa powder
1 Tablespoon mesquite powder–add into the cup of cocoa powder (optional, but yummy)
OR a 1/2 tsp almond extract
good pinch of salt
Put well washed, well drained beans in the food processor with agave and blitz until smooth. add in ingredients through stevia and combine well. Add in melted chocolate powder and other ingredients and process until smooth and very well combined. Scrape into a bowl and refrigerate 2-3 hours (at least) before piping.