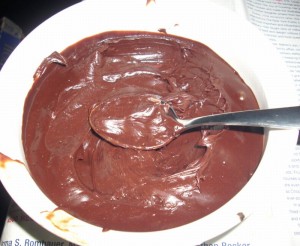 Holy chocolate!
My current new love happens to be this ungodly rich, creamy, smooth, luscious chocolate ganache frosting.  Which is, as usual, vegan and sugar free, but you'd absolutely never know.  I had half a can of coconut milk from a variety of recipes, including Ali and Tom's Cupcakes for Adopt a Gluten free blogger, and before I could say "hmm, what should I do with this?" I had already grabbed a pan and started playing.
It's got a super intense chocolate taste,  you can make it ahead and leave it in the fridge for a few days (at least in theory!) and it's really quite the epitome of decadence.
And for a less decadent but still super chocolaty frosting, please see my Fudgy Chcolate frosting which is also sugar free and vegan, but made with white beans and is pipable.
2/3 cup coconut milk, mixed OR lite coconut milk (if using light, add in 1 teaspoon coconut flour for extra thickening power!)
4 oz unsweetened baking chocolate–I recommend Sharffen Berger
1 Tablespoon coconut oil
1 1/3 cup coconut or palm sugar
1/4-1/2 tsp stevia concentrate
1 tsp mesquite flour or carob flour
1/2 tsp vanilla powder or extract
pinch of salt
Heat the coconut milk until vigorously boiling. Remove from heat, add in the chocolate and cover. Allow to sit for 10 min until mostly melted. Add all ingredients to a food processor and blend until smooth. This may take 5 minutes or so. Allow to cool until desired consistency. It can be refrigerated and then reheated to frost cakes.
I am also thinking about using full coconut milk and the coconut flour for heavenly truffles…heaven.
This is part two of my Sweet Treats series–part one was a coconut/palm sugar "caramel" dip. And I also submitted this to Amy's next round of Slightly Indulgent Tuesdays.
Amy is finishing up her VERY book, so let's send Amy some virtual chocolate hugs!