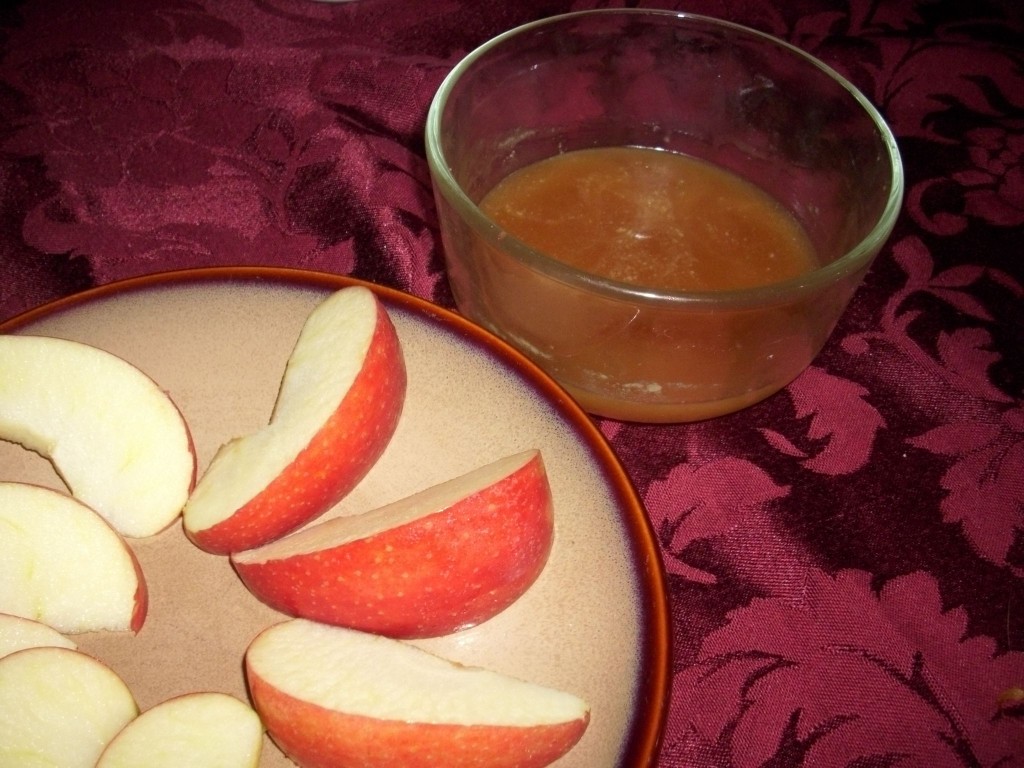 We had a party last weekend with 30 lovely guests, many gored pumpkins and a bunch of rambunctious kids.  And what went fastest?  Apple slices.  I know, who would have thought?  Granted, they were my favorites, fresh from the Farmer's Market, and some was due to parental nudging in that direction, but a bunch was voluntary, too.
But it was the dip that really sealed the deal.  Rich caramel flavor…and completely vegan and sugar free.  You know you want some…
2/3 cup reduced fat coconut milk
1 1/3 cup coconut sugar
Pinch salt
½ tsp stevia concentrate (optional, but more caramel-like)
1 generous TBSP macadamia butter
Boil and reduce coconut milk and sugar for approx 15 min over med/low heat.  Add in other ingredients and aggressively whisk.  It will thicken as it cools for perfect dipping consistency.
I'm delighted to submit this to Slightly Indulgent Tuesdays over at Simply Sugar and Gluten Free. Actually, I think it's super indulgent, but it's also sugar and gluten-free, and much better for your blood sugar than typical caramel. Head on over and see all the entries!
I've also gone the not-so-original route and added to Ricki's GF Healthier Holiday Roundup.  I will be more original next time…