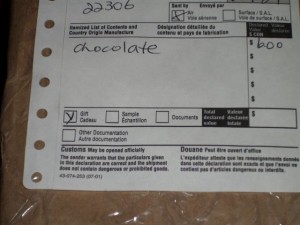 The picture may not be clear, but it's a good indicator of a great day when you get a box and it say "chocolate" under "declare contents".  This was a gift from Ricki of Diet Dessert and Dogs, and oh my, did it make my month.
Chocolate is the theme fo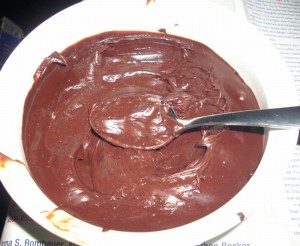 r this week, and I posted the best chocolate ganache ever…it's heavenly silky, rich, truffle-esque and gluten and sugar free. Go on, check it out!
It's part of my two part "Sweet treats" series. The first was a lucious sugar free vegan caramel dip, which is just fantastic, and I finally got a better shot.
So what a week it's been (besides the food!).  An article I co-wrote on Celiac and Thyroid Disease is now published, I posted a gluten-free turkey list updated for 2010 and I have a very exciting project coming up this Friday–filming a video on Celiac Disease, with a small segment on gluten intolerance, too.  If you're in the DC area and interested in coming, please do email me!
Okay, food.
Monday:
getting DH to take me out to dinner (I hope!) E, if you're reading this, consider it a not so subtle hint.
Tues:
White beans with turkey, broccoli and pesto (super easy and yummy)
Weds:
Salmon salad
Thurs:
Southwestern Quinoa/black bean Salad

Friday:
filming…so I'll be focused on that, and food will be an afterthought.
Fun treats:
Apple butter, made from local apples, which is cooking as we speak. Yay crockpot!
E's cake (AKA chocolate hazelnut torte)
Apple Crisp
and whatever else inspires me….
Everyone else?
Heather of Celiac Family has a nice chocolate roundup, and do check out her chocolate covered macadamia nuts. She's got pizza on the menu with her son's request.

Wendy of Celiacs in the House has beautiful pictures, as usual, and a great review review of of the Hassleback/Green interview with a gorgeous list of yummy, naturally gluten free veggies that her family wolfs down on a weekly basis. She's got minestrone on the menu, and I'd love to stop by!
GFree Mom has an inventory of what she made, and what she didn't. Hmmm…wonder what mine would look like! She's got a beautiful picture of fish soup, which looks incredible, and sounds perfect as things get chilly.
Dianne reminds us that chocolate doesn't always mean sweets, sometimes it means mole! Stop by and visit her at Wheat Free Family, especially 'cause she's joining us for the first time.