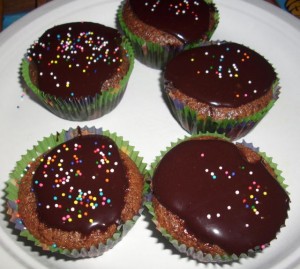 I was delighted to re-discover Ali and Tom's Whole Life nutrition blog recently. I've had a copy of their book at my office for a few years because I thought it was a great book, but since I'm allergic to brown rice, and fermented foods don't agree with me, and only recently back to beans, but I didn't have much experience until recently.
As you may know, it's a very whole-food based blog, with lovely pictures, and a variety of wholesome options. What's not to love? And their children are too cute for words. As of late, they've been posting more grain-free recipes, which is fantastic. And I love the new recipe index as well.
So, irony of all ironies, I go and pick a wonderfully healthy blog, and make their Chocolate Macadamia Clusters and Chocolate Brownie Cupcakes! Obviously they're more nutrient dense than I'd find on another site, but still. I usually do an adoption and an adaptation, but I found two that I actually could make as written, so I decided to go with it. I've also made the Soothing Red Lentil Soup in the past, and can vouch for its excellent-ness (excellency? you get the general idea)
The cupcakes were delightful, rich, and delicious. They were served at our annual pumpkin carving party. And they're quite unique. Most grain free recipes use egg, so these were quite a lucky find. I frosted with my favorite ganache to keep them completely sugar free.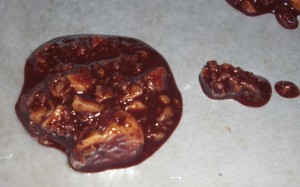 The Chocolate Macadamia Clusters were fantastic, too, and I'm sure there are endless possibilities for these babies with different nuts, seeds or even extracts. What a winner!
So I am sneaking in just under the wire to send this to Sea at Book of Yum for her monthly Adopt a Gluten-free blogger event. And I can say for sure that I will be making those cupcakes again…and again…