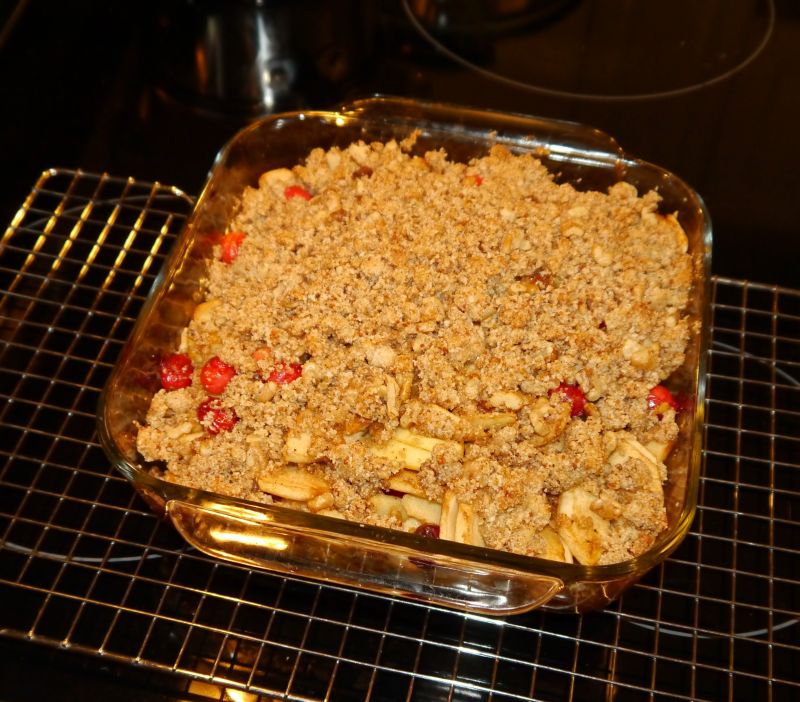 Apples are one of my favorite foods.  Maybe it's because I grew up in New York?  Either way, I've been an apple snob since I was a little kid.  Store bought apples can't compare to Farmer's Markets. Mac Intosh were my favorite for pies and eating.  But here in VA, they're not that good.  Fortunately we still have Goldrush, Jonamacs, Liberty and more, even though they're from states a little further out.
My favorite way to enjoy apples is…to just eat them.  But a very close second is an apple crisp. I've got a lot of recipes posted like this one and this is my current favorite version–gluten-free, sugar free and vegan.  And super delicious.  The pairing of the sweetness of apples and the tartness of cranberries is fantastic.
And you can substitute white or brown sugar if you prefer. Yummy one way or another.
Topping:
1 1/2 cups almond flour
2/3 cup chopped hazelnuts
pinch salt
1/2 cup oil
2/3 cup coconut or palm sugar (or other sugar)
1/4 tsp stevia powder
4 apples, pears or a combination, peeled and thinly sliced
3/4 cup cranberries (or dried cherries)
¼ cup coconut or palm sugar
¼ teaspoon ground cloves
½ teaspoon ground cinnamon
a few grindings of nutmeg
1 tablespoons of cornstarch or arrowroot starch
Prepare topping by mixing all ingredients. This can be premade and refrigerated or frozen.
Peel and chop apples thinly, combine with cranberries. Toss remaining ingredients together, and then mix into apples. Pour into a 8X8 glass dish.
Bake, COVERED for 25 min or so or until the apples start getting droopy and soft. Uncover and bake until browning, maybe 10 min more.
I'm submitting this to a blogging carnival, hosted by: