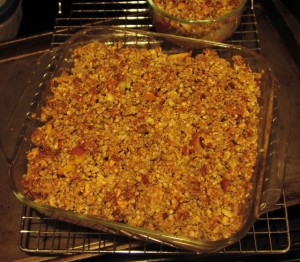 With Thanksgiving just around the corner, it's the perfect time to share one my Apple Crisp recipe. It's always been one of my favorite things to make because they're so quick, easy and yummy. Crisps are a holiday tradition in my family. It's very easy to make them gluten free, but I also wanted to make one that was sugar free, because I (and many people I work with!!) feel better when avoiding sugar. It took a few tries to come up with a recipe I'm delighted with.
When I can find them, I love the extra dimension quince adds to the flavor. This peculiar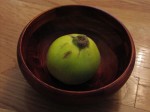 looking fruit is a real treat. The smell is heavenly. I often leave one for a day or two in my car! They are a pain to cut and peel, but the flavor is lovely when cooked slowly. They take a longer time to cook than apples, but if they're shredded, they cook down easily. If you have a Latino market nearby, these babies are known as "membrillo"
4 apples, pears or a combination, peeled and thinly sliced
1 quince, finely shredded (or 5 apples)
½ cup cranberries
½ cup dried cherries, raisins or cranberries)
¼ cup agave nectar
¼ teaspoon ground cloves
½ teaspoon ground cinnamon
1.5 tablespoons of cornstarch or arrowroot starch
1 ¼ cups almond meal or almond flour, OR 1 ¼ C sorghum flour (increase oil to ½ cup)
¼ cup quinoa flakes or oats
2/3 cup chopped walnuts
½ teaspoon salt
½ teaspoon cinnamon
¼ teaspoon nutmeg
pinch of cloves (or replace the cinnamon, nutmeg and cloves with1 tsp apple pie spice)
½ teaspoon almond or vanilla extract
finely grated zest of an orange (optional)
¼ cup agave nectar
1/3 cup oil
Peel and slice apples thinly, and mix with cranberries, dried fruit, and agave. Mix spices and flour in a separate bowl, then combine with the apples. Pour into a greased 8X8 pan.
Mix dry ingredients thoroughly, then add in wet ingredients until the texture is crumbly. Scatter the topping over the fruit mixture. Put in the oven at 325 and bake for 30 minutes. Cover with foil and bake until the juices get all bubbly (generally, 40 minutes total).
Serve and enjoy!
As an added bonus, both the apple mixture and the topping can be made a day or two ahead and stored in sealed containers in the refrigerator.
If you are on a no amylose diet, use cornstarch, almond meal or flour, and quinoa flakes.
This seasonal treat is my submission to Weekend Herb Blogging, as originated by Kalyn of Kalyn's Kitchen, though Haalo of Cook (almost) Everything at least once is our new WHB master. Siri of Siri's Corner is this week's fabulous host. Check out her site for a great range of global recipes!
~from Cheryl's kitchen ©2008