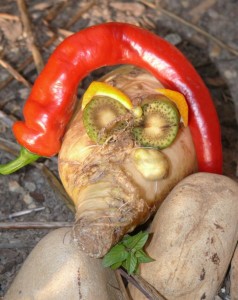 The leaves here are incredible, and the weather is alternating between unseasonably warm and windy and chilly. I always feel like I want to get outside and savor the last drops of warmth and sunshine before they slip away. I'm such a warm weather and sunshine person that it's a challenge to see the fall slip away! Especially when it means saying goodbye to my garden.
But it's also a good time to get in the kitchen and cook up a bunch of soups and stews. I haven't done that much yet, but I'm sure I will. This week's veg, Swede (AKA rutabega) is a good one for soups and stews, but is out of my diet for at least the next 4 months. So it won't be in my meal plan, but do check out Lilac Kitchen for recipes and inspiration. The one in the picture above is from a food art mini project that a wonderful friend shot for me for my nutrition practice.
Monday:
Pom Chicken (recipe to follow) with steamed broccoli
Tuesday:
Parchment tilapia with peppers and ginger spiced kale chips
Weds:
Quinoa TBD
Thursday
Turkey leftovers (defrosted) and celery in a chestnut sauce
Friday:
Steak and peppers
Baked goods:
Cornbread (for stuffing).
Sugar free meringues
Both are gifts for others…I may make something fun for me, too.
From the garden:
Raspberries-they're so cute, I have to make mittens for them to keep them from freezing
herbs
Celery
From the Farmer's market
Kale
Onions
Cauliflower
Apples