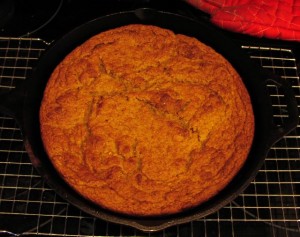 Sometimes I get something in my head and I'm not letting it go until I get what I want! This recipe is a perfect example. I love my Nana Skillet Bread, but bananas don't agree with me…and I can't have grains. But I believed I could make it work with pears and was absolutely determined! Darn thing wasn't going to get the best of me. Most of the "failed" batches were delicious, but they were a pile of crumbs, so I was always "forced" to eat them. Quite a hardship! I generally make things in season, and started working on this at the beginning of pear season, and didn't figure out how to make it work until a week ago. I have a stash of frozen pears, and methinks this is where they're headed.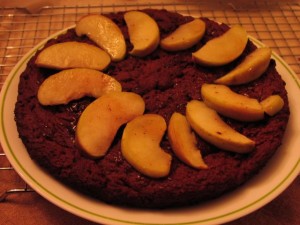 It's not quite a bread, and not quite a cake. It's perfect for breakfast, brunch or a snack, and it's quite healthy, too! If you don't have a skillet, you can do it in an 9 inch round, but the crust won't brown as nicely. Lining the skillet with parchment is essential if you're using a skillet, or it will totally get stuck. Salba or chia is a must, and flax won't work. You'll get a pile of crumbs. Tasty crumbs. Trust me. For more info on Salba, I have a two articles here. If you don't have mesquite, add more almond flour instead, and add in 1 teaspoon of vanilla extract and more spices.
Ingredients
1 1/4 cup almond flour
1/2 cup quinoa flour
¼ cup mesquite flour
1Tablespoons +1 teaspoon baking powder
1 teaspoon baking soda
3/4 cup pecans or walnuts (optional)
½ tsp cinnamon
¼ tsp nutmeg
1/4 tsp cloves
pinch of salt
Wet:
1 1/4 cups very ripe pears
1 tablespoon ground chia (Salba) seeds
2/3 cup agave (a little less)
3T oil
1 teaspoon lemon juice
1 teaspoon maple extract
1 teaspoon vanilla or almond extract
Line the bottom of a 10 inch cast iron skillet with parchment paper, then grease the paper and sides of the pan. Preheat oven to 350 and put skillet in the hot oven 10 minutes before adding the batter.
Thoroughly mix dry ingredients together. Dump wet ingredients in a blender. Let it roll until well blended. In my vitamix, that takes less than a minute. I would assume an ordinary blender would take a few minutes. Add wet to dry mix until well everything is combined, then stir in the nuts.
Bake for 30-40 minutes or until top turns a beautiful golden brown. Almond flour browns a lot so don't be surprised if it's darker than you expect. Cool on a drying rack 10 minutes, then turn out onto a plate. Top with sauteed apples if desired.
Yum.
~from Cheryl's kitchen ©2008