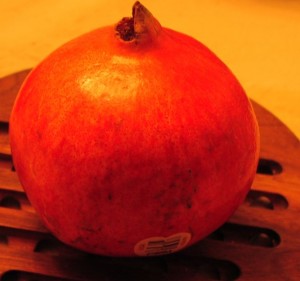 This week's fruit is one of my absolute favorites: Pomegranate! I had one for the first time in my twenties and I was totally hooked. I'm a spring and summer kind of gal, and not a big winter fan. Pomegranates give me something to look forward to in the winter months, and when they disappear from the market, spring is around the corner so it's all good.
Generally, I have pomegranates just as is, but I also sometimes cook down the juice with some agave to make pomegranate molasses. I plan to make a pomegranate/walnut/chicken dish that I made last year. I don't remember the details, but figure I'll wing it. And I can't wait to see what everyone else decides to do with this fabulous fruit!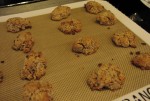 Last week was a good one in my kitchen. My pear skillet bread/cake turned out most deliciously (I'll post later this week, I think) and I also made Ricki's GF macaroons, which are from her upcoming cookbook. I did my last batch of campaign cooking, with a quinoa/black bean salad. I posted a recipe for Red Pepper Soup, which is great on a chilly day–although I have to say, we've had very few of those so far.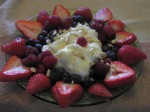 Here's a plate of love for my sweetie (masquerading as fruit, but don't be fooled)
I ate Brussels sprouts for the first time last week. I liked them, my tummy didn't. They were interesting, though, and I'm glad I gave it a shot!
Monday:
Chicken breasts poached in a pomegranate sauce with walnuts
Broccoli/carrots
Tuesday:
Vegan
Southwestern Quinoa Salad with avocado
Wednesday:
Parchment Tilapia, Lazy Style with red peppers. Can you believe they still have some at the Farmer's Market? I can't believe they're not frozen!
Thursday:
Roast chicken with a Chinese 5 spice rub and broccoli with sauteed garlic
Friday:
Turkey cutlets with artichoke in a lemony sauce

Treats of the week:
I plan to make pumpkin pie for a friend's birthday
Caramel-y almond cookies
From my garden: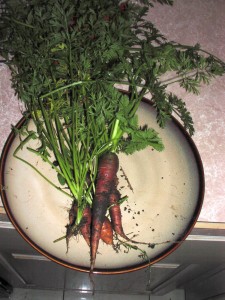 Raspberries
Garlic shoots
Thyme
Oregano
Carrots/carrot tops
From the market:
Cauliflower
garlic
kale
apples
pears
peppers
And what about everyone else?
Ginger of Fresh Ginger has a great week planned!
Pom Cosmos sound like a great way to get antioxidants. Her brussel sprout plants didn't really sprout, but I give her credit for trying! and I totally hear her comment on getting behind on posts, it's so easy to do when there's always so much that comes up.
Sea of Book of yum has a great international week of munchies planned. I especially want to hear more about her Spinach Chickpea Curry! She recently posted a recipe for acorn muffins that have me intrigued. Maybe I'll go out and steal from all the neighborhood squirrels.
Manda's having a hard time with tummy pain, but has still pulled together a great menu with quinoa-pom-pistachio salad and banana ketchup (not together!!!). Feel better, Manda!
Angela has a big week and GF cooking classes, so let's wish her best of luck! She also has a GF Free-zer event going on Friday, and I'll have to check back in to see what yummy things she has in store for us.
Kim is feeling much better after her surgery and getting back into the swing of things with a great menu and she's even looking forward to making some make and freeze ahead items for Christmas baking.
Sarah joins us with her ode to soup since she just had her wisdom teeth out. Ouch!