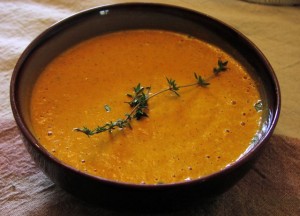 I love red peppers. And yellow peppers. And orange peppers. I guess I really mean all sweet peppers! Raw, roasted, sauteed…you really can't go wrong. I eat a ridiculous quantity of roasted peppers in the summer and fall months. As it gets colder, I turn more toward red pepper soup and sauce.
This is one of those "un-recipe" recipes. Every time I've done it it's been great, and each time is slightly different, depending on what I have on hand and my mood. You can use different nuts. I like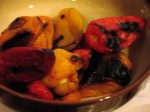 brazil nuts and almonds, too. When I have some, I add in a clove or two of roasted garlic, and it works well. I try to put aside some of my herb-y roasted peppers (if I can manage not to eat them all!!), but canned marinated peppers work, too.
The soup is creamy and satisfying and best of all it's quick and easy to make!
1 cup roasted peppers
1/4 cup pine nuts, toasted
1 cup broth
a squirt or two of agave
1/2 teaspoon of chili powder (if your peppers are not already marinated or seasoned)
pinch of sea salt
black pepper, to taste
pinch cayenne
sprig of thyme
Put everything except thyme in a blender and blend until smooth (this may take a while!). You'll have a great soup ready in just a few minutes. Warm over gentle heat, sprinkle with fresh thyme and enjoy.
This is my weekly submission to Weekend Herb Blogging, which has passed from Kalyn's Kitchen to Haalo ofCook Almost Anything At least Once (words to live by!) This week's hostess is Wiffy of Noob Cook