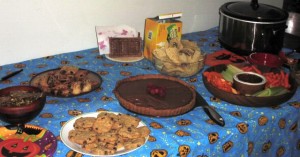 We host one big party the Saturday before Halloween. The deal is that DH is fine if it's GF–as long as no one can tell. Or, in other words, as long as the food is delish! I spend countless hours planning and fussing away in the kitchen, and somehow it all works out in the end. Most importantly, everyone has a great time. Pictures from past year's parties are here, and here are the 2008 pumpkins.
The menu:
Hot mulled cider At the last minute I decided to make the cider (I was tired!) but I'm glad I did! One of our guests was saying that it isn't really fall until they have our cider.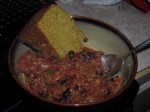 Turkey chili: featuring fabulous peppers and tomatoes from my garden
Pumpkin Cornbread: Karina's recipe, made to be sugar free and spicier, just with pumpkin instead of sweet potato to match the season.
Pumpkin seed pave: I've been meaning to try a recipe from Apple Pie, Patis, Pâté for a while, and I'm glad I did! Somehow with all of the food, it flew under the radar. On the other hand, that meant MORE FOR ME! I thought it was absolutely awesome. I added some cocoa powder on the top, but aside from that I followed the recipe.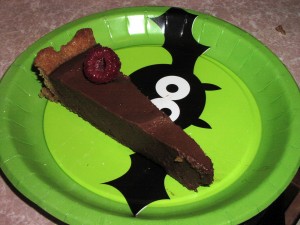 Chocolate raspberry tart:
Vegan, grain free, sugar free, absolutely heavenly. I used frozen raspberries from my own canes. This was my absolute favorite. I haven't shared the recipe because I think it's only possible with a Vitamix, and I know that those are hard to come by! Of course, nothing says "classy dessert" quite like a green bat plate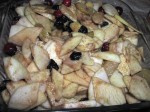 Apple crisp:
Grain free and recipe coming soon!
Pumpkin seed brittle What can I say, this was a hit. I brought some of the leftovers into my office, and someone there asked if there was any sugar in it. He assumed, given than 99% of the time I'm sugar free, that somehow I figured out how to make brittle without sugar. No such luck! BTW, this is awesome with pistachios, cashews or peanuts, too.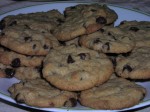 Ginger Lemon Girl's recipe was a ginormous hit. Make them. Period.
Angel food cake: this was my only disappointment. I used the recipe from Carol Fenster's new book. The recipe calls for 1 cup of eggs, or 14. The problem is, 1 cup is 7 eggs. Either way, it wasn't very good.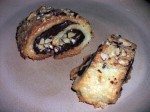 Rugalach: Not all of them were pretty, but taste trumps looks. They were DH's fave. I made them using my old recipe, but using Better Batter. I filled some with Nutella and hazelnuts and made others more traditionally. They smelled heavenly!
Chocolate Hazelnut balls:
These are one of my long standing traditions. They're vegan, luscious, and keep well. Every time I make them differently, and quite honestly, I forgot to write down the recipe (again!)
Everyone had a great time, and the food was wonderful, if I do say so myself. And since everything was GF I didn't have to fuss about crumbs!