Ah, how I've missed menu planning. Life has been so busy so many meals have been last-minute affairs…and this week will be no exception.  However we are having our annual pumpkin carving party this weekend, so at the very least ONE day's meals
must be planned to avoid unpleasant last minute scurrying.
Although I love our party, it's a little—um—special—that I am teaching on Food and Mood on Weds, and have 2 articles due this week, one with recipes and pictures! (of course, in addition to seeing clients) Now, I'm a good cook/baker, or at least I think so, but magazine-quality photos are outside of my comfort zone. So although I'm very excited, there's some nervousness in there, too!
Our theme for this week is nuts. Ahem. I will not be nuts this week. For sure. But I will be eating nuts, as I do pretty much every day. Heather of Celiac Family is hosting, so stop on by for her roundup.
Hopefully our party menu may inspire…and it may also evolve before Saturday, too! If you are truly curious, we've got pictures from past parties here, and some of the past menus, too.
Drink:
Hot mulled cider (make during the party)
Appetizers:
Raw Caramel Dip from Whole Life Nutrition with Honey crisp apples (apples bought, dip will be made Fri)
Salsamole (make Saturday)
Crudites: Baby carrots, peppers, etc. (either E chops or I buy chopped. We shall see)
Food:
Desserts: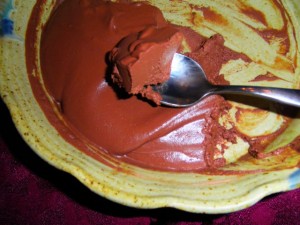 Dunno. Maybe Mint Brownies? I never know how much is enough or too much.
*update* How did I miss Heathers' Spooky Meringues? I know a winner when I see it!